Tibetan documentary tackles a fascinating subject but lacks depth
By BILL WHITE, Seattle PI, September 29, 2006
Seattle, WA (USA) -- With "Vajra Sky Over Tibet," director John Bush completes the trilogy he undertook in 2001. The first two films explored the lost Buddhist traditions of Southeast Asia. This final installment covers Tibetan history since the Chinese communist takeover in 1959.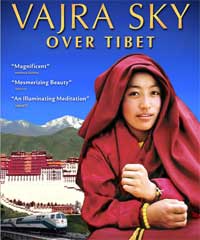 Although an informative look at government destruction of a country's religion, the film is less than the "thunderbolt of awakening" implied by the title.
There is a lot of history to be learned here, but the teaching is so slow paced that the most alert student may fall into a stupor by the end of class. The three narrators, Tenzin L. Choegyal, nephew to the Dali Lama, singer Dadon and the director himself, speak in slow, condescending phrases. The music, a harmonic chant score by David Hykes, is as tiring as the repetitive images of prayer wheels and mandalas.
Before the communists outlawed all forms of religion, Tibet was the largest Buddhist country in the world. Since 1959, more than 100,000 Tibetans have made the dangerous trek across the Himalayas to India, where they can continue their religious practices. Those who remain feel the separation from traditions and the emptiness of the future.
The movie has a general mood of regret for the end of a spiritual era, but does not explain the communist motivations for its war on religion.
---
Official Website: http://www.vajrasky.com/
---
Midway through the film, Bush changes tactics to show the government appropriating, rather than outright destroying, the Buddhist institutions. He shows how the wisdom cult has been compromised by government takeover of the monasteries, where monastic training continues, but to no apparent purpose. His cameras then explore the rural areas where, under less government control than the cities, Dharmic communities have been formed to compensate for the decline of the monasteries.
Bush fails to investigate the many disappearances of Buddhist civilizations in the modern world with any depth. Instead, he cites examples such as the new Chinese rail that connects Tibet to China as the reason for worries over the continued cultural survival of Buddhist traditions.
Provoking more ideas than it presents, "Vajra Sky Over Tibet" is a sketchy introduction to a fascinating subject.
VAJRA SKY OVER TIBET
DIRECTOR: John Bush
DOCUMENTARY
RUNNING TIME: 87 minutes
RATING: Not rated
GRADE: C