Transforming a "Fracture" into Strength
by Shen Shi'an, The Buddhist Channel, April 21, 2007
Dharma-Inspired Movie Review: www.fracturemovie.com
Singapore -- The tagline of the movie "Fracture" says, "If you look close enough, you'll find everyone has a weak spot." The film is a psychological thriller on the human weakness of exploiting human weaknesses, though the devious would consider such ability strength instead.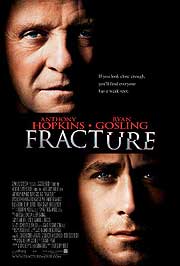 Ted Crawford (played by Anthony Hopkins) is a meticulous structural engineer, who "skilfully" engineers what assumed to be a flawless scheme for exacting vengeance - for the murder of his adulterous wife. With manipulation of legal technicalities, he almost gets away scot-free. Thus do the morally fractured abuse fractures in the law.
The two over-confident protagonists, Crawford and district attorney Willy Beachum (played by Ryan Gosling) pit their wits against each other in a game of catch with high stakes. Taking pride in his well-oiled plan, Crawford committed a near perfect crime. Upon reflection, is the phrase "perfect crime" not an oxymoron? To be perfect is to commit no crime; to be criminal is to be far from perfect, even if crimes are committed "perfectly". And criminals never really get away. The long arm of the law might not be long enough to nab one in this lifetime, but the longer arm of the law of karma catches up in time. It can stretch so long that it can "apprehend" the guilty in a future life.
On the subject of fractures, Crawford recalled how he used to inspect eggs for imperfections, such as hairline cracks and such. Through his mindful observation, he discovered virtually every egg to have some minor "fractures". He used this as an analogy to illustrate his belief that everyone has imperfections - "character fractures" so to speak. Ironically, he forgets to reflect this upon himself. As the Buddha taught, "Let none find fault with others; let none see the omissions and commissions of others. But let one see one's own acts, done and undone." The enlightened commit no crime and make no mistakes. Character flawlessness is an attribute of spiritual perfection. Surely, Crawford did not know the faultless Buddha!
The very moment one looks for fractures in others is the very moment one ceases to look out for one's own. It is spiritually arrogant to think one is flawless while others are flawed. This arrogance ironically, is a glaring flaw that the arrogant miss - or they would not be arrogant in the first place. The morally fractured look for fractures in human-nature to exploit, while the compassionate look for the same fractures in oneself and others to heal them. To entertain an immoral thought is to develop a minor fracture, that might split into a monstrous crack when acted upon. Murder, adultery and deceit in the movie all first spring from entertaining immoral intentions. Incidentally, the unwholesome trio breaks the first, third and fourth of the five basic Buddhist precepts of morality.
Crawford plays with Beachum's weakness of wanting to win. Beachum's attachment to winning thus becomes a weakness instead of a strength during their mind games. Once again, Crawford failed to reflect upon himself, for he too had the same weakness of wanting to win Beachum. Crawford's attachment to his assumed victory over Beachum becomes an open weakness when he gloats over his failure to prove him guilty. This gave Beachum the opportunity to disclose how his "perfect crime" was done. Initially engaged in a contest of egos with Crawford, Beachum transforms the game to a selfless fight for justice. Mindful of his pride as a "fracture", this very mindfulness becomes a strength when ego is put out of the way. On the other hand, Crawford failed to see the fracture of his pride as his major weakness.
Like all satisfying movies, "Fracture" delivers worthy lessons on how good can triumph over evil. It delivers justice just as the audience would want, though not without unexpected trials and tribulations along the way. If no justice was served by the end of the story, it would be disturbing indeed. Other than being a subtle admonition against pride and fantasies of attempting "perfect crimes", perhaps another moral of the story is this - If we believe in justice and want justice, we should always stand up for justice and live justly.