A journalistic 'Heart'
By CRAIG OUTHIER, The Orange County Register, June 22, 2007
Film is a testament to Mariane Pearl's strength and resolve, but it lacks emotional resonance.
Orange County, CA (USA) -- "A Mighty Heart," based on Mariane Pearl's memoir of the 2002 kidnapping and murder of her husband, Wall Street Journal reporter Daniel Pearl, by Muslim militants, impresses most as a film testament to her rock-solid Buddhist reserve.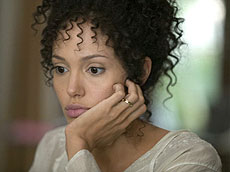 << A MEMOIR: Angelina Jolie portrays Mariane Pearl, who was pregnant when her journalist husband was kidnapped and slain in 2002.
Played by a tanned, kinky-haired Angelina Jolie, she begins the movie as a contented – if somewhat world-weary – pregnant journalist. She ends the movie as a contented – if somewhat world-weary – widowed journalist. Considering the hellish ordeal in between, that's some feat.
It also engenders a fatal numbness in the filmmaking. Director Michael Winterbottom ("The Road to Guantanamo") forgoes any pretense of suspense – Daniel Pearl's death is, to all but the least news-savvy among us, a fait accompli – and instead fashions "A Mighty Heart" as a gritty, politically charged catalog of "moments," with provocative but largely unmoving results.
The story itself is, of course, extraordinary. Early in 2002, with his pregnant wife in tow, Daniel Pearl – investigating the Richard Reid "shoe bomber" case for the Journal – arrives in Pakistan for an arranged meeting with a purported terrorist leader. Jolie's French-accented description of the bustling Pakistani port city of Karachi is particularly foreboding, a place with "so many people, nobody knows how to count."
To Mariane's horror, Daniel – played with easy affability by Dan Futterman ("The Birdcage") – disappears into that humid scrum of humanity, the apparent victim of a premeditated abduction. With artfully erratic, hand-held realism, Winterbottom convincingly portrays the jurisdictional chaos that follows, from a sympathetic Pakistani police captain (Irfan Kahn), an anvil-like FBI agent (Jillian Armenente) and a private American security consultant (Will Patton, perfectly oily).
While images of Daniel – who is Jewish – are cruelly paraded on the Internet with paranoid anti-Semitic rants about his ties to the CIA, the authorities attempt to unravel a fearsome tangle of eyewitness accounts, e-mails and cell phone records to find his whereabouts.
Admittedly, Winterbottom and screenwriter John Orloff ("Band of Brothers") distill potent irony in staging a procedural drama in a land where there's no official procedure. In one bitterly telling scene, Mariane is rendered speechless when the Pakistani interior minister blames Daniel's kidnapping on foreign spies.
But where "A Mighty Heart" should tense up, it often goes slack, with improvised jabber about baby names and table wine. Jolie – whose willingness to take on international politics was established, tiresomely, in "Beyond Borders" – is afforded one, beautifully unguarded scene of grief, but Mariane ultimately feels like an afterthought, Buddhist mood-lighting.
For Winterbottom, a master of the fourth-wall-demolishing pop comedy ("A Cock and Bull Story," "24 Hour Party People"), this is the latest reminder of his serious side. And inferior side, if current trends hold.