Such is the life of Buddhist leader 'Milarepa'
By LAURA KERN, The New York Times, September 19, 2007
Saint's tale could use some creative subtlety
New York, USA -- There are stunning locales but not much subtlety on display in ''Milarepa,'' a straight-as-an-arrow mythical-historical telling of a mystic's early life.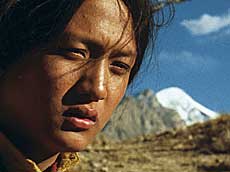 << TRANSFORMATION: Jamyang Lodro portrays Thöpaga, the young man who, after assassinating his uncle's family in an act of revenge, grows up to become the Tibetan saint, Milarepa.
After his father's untimely death, Milarepa (known in his youth as Thopaga), his mother and his sister are treated abominably by the father's money-grubbing siblings. In the remote chance that it may slip our minds, the mother reminds us by proclaiming again and again just how much they've suffered.
Nearly a thousand years after his death, Milarepa (played by Jamyang Lodro) is still regarded as one of Tibet's greatest spiritual leaders. But as with many esteemed figures, there are long traces of blood leading to the pedestal.
We witness his entry to the dark side, impelled by his vindictive mother, as he becomes versed in black magic — which, much like Jedi training, involves willing objects to levitate using intense concentration — and takes vicious revenge before finally developing a conscience.
The director Neten Chokling, a Tibetan Buddhist lama, portrays the first two Milarepa incarnations of the film's subtitle, ''Magician, Murderer, Saint.'' The third will be further explored in a sequel.
''Milarepa'' fails to infuse freshness into the timeworn lesson that violence doesn't pay; perhaps its subject's path to goodness will provide a more enlightening cinematic outlet.