'How to Cook Your Life'
by Walter Addiego, San Francisco Chronicle, Nov 1, 2007
Documentary. Written and directed by Doris Dörrie. With Edward Espe Brown. (PG-13. 93 minutes. At Bay Area theaters.)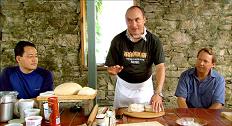 San Francisco, CA (USA) -- "How to Cook Your Life," which playfully bills itself as a "cooking class" with Zen priest and cookbook author Edward Espe Brown, is a film you can sink your teeth into.
You'll never mistake this movie for a Food Network show because Brown believes that working in the kitchen can be an intensely spiritual activity - it's about nourishing the soul as well as the body. The film is directed with humor and a sense of openness that is quite Zen-like.
Brown is well known in the Bay Area, both in Zen circles and as a cook. He has long associations with the San Francisco Zen Center and the Tassajara Zen Mountain Center in Carmel Valley. Among his publications are the "Tassajara Bread Book," the "Greens Cookbook" (as co-author) and other cookbooks, along with several volumes on Zen topics.
In the film, he talks about how he came to cooking (at age 10 he objected to the "puffy" bread served in his home), about the relationship between preparing food and higher values, and about his own struggles with weakness (he admits that he's prone to impatience and even anger). We see him in the kitchen teaching how to knead bread, and we hear him talking about various Zen topics in San Francisco and Carmel Valley and at a Buddhist center in Austria. He tells a touching story using banged-up old teapots as a metaphor for our imperfections and how the passing of time exacts a price from everyone.
The movie also tries to raise consciousness by addressing some of the consequences of Western affluence, which leaves us feeling cut off from the physical world and each other and lulls us into wasting food. We're introduced to a woman who survives off what she can find (and it's plentiful) in supermarket garbage bins, and what she can glean from fruit trees in residential neighborhoods. We also see volunteers serving food to the destitute at the St. Anthony Dining Room in San Francisco's Tenderloin.
German filmmaker Doris Dörrie, also a fiction writer, is best known for her comedy "Men ..." (1985). She is a Zen practitioner, and her 2000 comedy-drama, "Enlightenment Guaranteed," focused on two brothers staying at a Japanese Zen monastery. She knows what Brown is getting at, and obviously established a nice rapport with her subject.
Brown says the disciplines of Zen and cooking both require the devotee to reconnect with the world in a way that seems quite foreign to our distracted society. He repeats these words, which he learned from his own master, Suzuki Roshi: "When you wash the rice, wash the rice. When you cut the carrots, cut the carrots. When you stir the soup, stir the soup."