How "Fred Claus" Became Santa
by Shen Shi'an, The Buddhist Channel, Nov 16, 2007
Dharma-Inspired Movie Review: www.fredclaus.warnerbros.com
Singapore -- With the growth of consumerism worldwide, it seems that beyond Christmas, increasingly more are celebrating "Claus-mas" - a secular "season of giving" and receiving presents, a festival of goodwill and generosity despite differences in race and religion.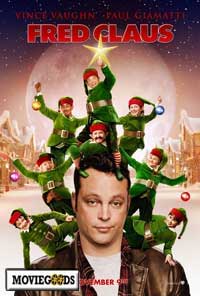 A case of sibling rivalry, Fred (played by Vince Vaughn) is the "prodigal son" of the Claus family, who feels jealous and overwhelmed by his younger brother Santa's (played by Paul Giamatti) famous works of generosity.
This movie might perpetuate the myth that some consider to be the biggest lie to children - that Santa Claus exists. No, there is no Santa who does the impossible job of delivering gifts overnight to all the "nice" kids on Christmas Eve by "breaking and entering" or by sliding down chimneys. The story delivers some good old lessons on generosity though. If there is no Santa, it is up to us to deliver goodies to deserving ones. This we can all do overnight!
Fred challenges Santa by deciding that all children, be they naughty or nice, deserves presents. Perhaps, some children are naughty simply because they were never treated nicely before. Perhaps, all are essentially good kids - though some might not know how to be good, or what is good, or that it is good to be good. Perhaps, an unexpected present of unconditional love would touch and transform their naughty dispositions, to slightly awaken their pure and "nice" Buddha-nature. Naughty as some might be, all deserve a second chance.
Injured during a squabble, Fred had to replace Santa to deliver the gifts on Christmas Eve. Initially fretful of the task too huge to literally "deliver", he learns to be generous when Santa gives him a thoughtful gift - despite him having amost "stolen" Christmas. Touched, Fred the naughty "child" finally grows up when he transforms his jealousy to rejoice (mudita) in his brother's merits. The attachment to deliver all gifts on Christmas Eve reminds us of the greater urgency to practise generosity in each day of our lives. Better timely than not, but better late than never too!
Generosity is a perfection (paramita) in Buddhism. Practising it counters the defilements of greed and miserliness, which are some of the obstacles to enlightenment. While Saint Nicholas popularly personifies generosity in Christmas culture, Buddhists see all Buddhas as the perfected "saints" of generosity. This generosity (dana) transcends the giving of material gifts. It includes the giving of time, effort, comfort (fearlessness) and most of all, the gift of truth - which excels all other gifts. The Buddhas "celebrate" "Dana-mas" everyday and so should we! Don't just wait for generosity, be generous. The karmically sure way to receive is to give. Don't just believe in a fictitious Santa - be like him if you truly appreciate him!