Buddhist film to be released for Tet
VietNamNet Bridge, Jan 7, 2008
Ho Chi Minh City, Vietnam -- A Vietnamese film on Buddhism, Duyen Tran Thoat Tuc (Leave Love of Dust), will make its silver screen debut nationwide on February 13 (lunar January 7) and its DVD will be released during the UN Vesak Day Celebrations 2008.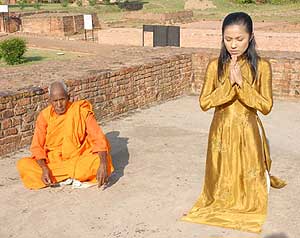 << A scene from Leave Love of Dust
Leave Love of Dust features the life and love of Le Quyen, a young girl who discovers a previous life during a visit to India. An Indian monk tells her she was a princess who had been ill-fated in life and love.
The film, produced for US$250,000 by Senafilm, a private studio based in HCM City, with financial support from Buddhists at home and abroad, was shot in 2007 to celebrate the UN Vesak celebrations in Vietnam this year.
"This is the biggest film Vietnam has made about Buddhism. I'm very moved to know that Senafilm produced it for charity purposes. All revenues will be put towards charities. The movie will welcome the UN Vesak Celebrations held in Vietnam from May 13-17, 2008," said senior monk Thich Hien Phap, Vice Chairman of the Vietnam Buddhist Sangha.
The celebrations will be hosted by Vietnam and organized by the Buddhist Collaboration on Celebration of the UN Day of Vesak and the Vietnam Buddhist Sangha.
The attendees will include 4,000 leaders of different Buddhist sects, renowned scholars and Buddhists from around the world. More than 30 members from 20 countries will draw up plans for the celebrations.
The celebrations will include the fifth workshop on Buddhism, themed "Contributions of Buddhists to the construction of a just, democratic and civilized society" and a forum titled "the Buddhist network of Electronic Cultural Atlas Initiative".
Under a UN General Assembly resolution dated December 1999, the UN Day of Vesak is an annual event held every May. It took place for the first time at the UN headquarters in New York in 2000. Since 2004, it has been focally held in Bangkok, Thailand.