Tibetan Lama film maker discusses Western perceptions of Buddhism
by Berrak Kocaoglu, Yale Daily News, January 28, 2008
New Haven, CT (USA) -- Tibetan lama and filmmaker Dzongsar Khyentse Rinpoche takes pride in his connection to the Buddhist tradition, which puts emphasis on critical self-education.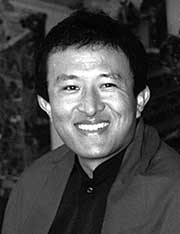 << Dzongsar Khyentse Rinpoche
But at a Friday talk, "Projecting the Dharma: Film and the Transmission of Buddhism to the West," he joked that the media's projection of Buddhism as just "a path to happiness" is a "marketing strategy for Buddhist missionaries."
Rinpoche, who has produced two movies on the transmission of Buddhism to the West, focused his talk at the Yale Law School on the representation of Buddhism in the West through the media. His 1999 film "The Cup" explores the cultural friction between a Buddhist monastery and the World Cup, and his 2003 film "Travellers and Magicians" is a romance that takes place in Bhutan.
The disparity between the traditions of the East and the West manifests itself in the media's interpretation of Buddhism, Rinpoche said.
This difference has generated inconsistencies in the projection of Dharma in the West over the years, he said.
"I remember my first visit to the West, especially America. I was quite young," Rinpoche said. "The conversations we had about the projection of Dharma at the time had a lot to do with LSDs, hallucinogens and Tantric sex. But later when I came to America, the projection of Dharma had changed. It was about peace and the path to heaven."
In the West, where societies are more morally oriented than in the East, he said, the film industry is stereotypically associated with limousines, sex and drugs. Rinpoche, who said his Buddhist identity does not conflict with filmmaking, classified Buddhism as science and film as a medium to understand it.
The human mind relies on symbols, he said, and although in early times statues or paintings of Buddha were not encouraged by religious leaders, any attempt to represent the Buddha can be a way to project individual Dharma, or truth. Duality, such as physical manifestations of ideas through film, should exist in Buddhism, Rinpoche said.
Rinpoche said the American success of his movies was a result of the West's sympathy for him as "an endangered species" — specifically, as a Tibetan monk. But he said he still hopes to make films to explain Buddhism to Westerners on more than a superficial level.
"It will be set in the Kingdom of Bhutan, where the king organized mock elections to prepare his people for the first national elections in March," Rinpoche said of a film he may produce. "I want to film how a king would teach the value of election and democracy to a part of the world that does not understand such values."
Vinod Saranthan GRD '10 said Rinpoche's talk helped to clarify the Western understanding of Buddhism, particularly many Westerners' image of the guru as providing a set of guidelines rather than teaching through indoctrination.
"His explanation of the concept of non-duality really resonated with me, particularly since there is a lot of misconception about the exact nature of Buddha and how his teachings should be projected," Saranthan said. "I also appreciated his idea that a guru is a useful resource as long as he does not spoon-feed his knowledge."
Jessica Bolhack '11 said the talk inspired her to watch Rinpoche's movies.
"I have not seen any of his movies, but I will definitely see them soon" she said. "Some aspects of Buddhism can be applied to life."
Other students said they appreciated Rinpoche's honesty when addressing sensitive subjects, particularly issues on which he has strong opinions.
Patrick Schwemmer GRD '08 said Rinpoche conducted a robust discussion of the differences between the East and West by being open about his own background and prejudices.
"He precluded any discussion of bias by putting his own on the table and making jokes," Schwemmer said.
Rinpoche, who wrote the 2007 book "What Makes You Not a Buddhist," is the subject of the 2003 documentary "Words of My Perfect Teacher."