Love Advice for "The Heartbreak Kid"
by Shen Shi'an, The Buddhist Channel, Feb 11, 2008
Dharma-Inspired Movie Review: www.heartbreakkidmovie.com
Singapore -- "The Heartbreak Kid" presents an interesting dilemma about the nature of commitment. What should you do, if the person you married turns out not to be the person you thought? What if this person turns out much worse than you could even dream of? Worse still, what if you meet another person shortly after your marriage - a "dream lover", who seems so much better than the one you married?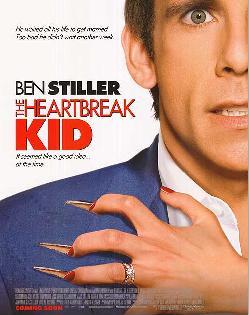 If the person you married is extremely problematic beyond "feasible tolerance" (whatever your threshold is), it would be very easy to call off the marriage. It would be even much easier to do so if one also meets another who seems to be the polar opposite. This was the case faced by the character Ben Stiller played in the movie.
When is the "itch" okay, if at all? Seven days, weeks or years later?
However, real life is less likely to present these extreme encounters. That is to say, the ones we commit to are likely to be only moderately better and/or worse than expected. Likewise are the third parties we encounter after marriage. Extreme "differences" in character before and after marriage would hint of there having been inadequate time in getting to know each other inside out.
Such was the "Kid's" case, who rushed into conjugal hell! The less time together before marriage, the more risk together after. There is always risk involved - both before and after marriage - for people change - for better or worse. Why hurry if the love is true? Actually, true love can wait - for it is truly rational too, not just totally emotional. Rushing into "true love" can ironically keep it at bay.
If one calls off one's commitment out of the above moderate differences, one's commitment was only moderate in the first place. Interestingly, this means it might indeed be better to call off the commitment - for it was not true enough - unless one decides to be more committed to what one "committed". The fickle fool themselves into thinking they can commit - on and off, "infinitely"!
Is commitment simply contentment? Not exactly. There is no need to be spiritually "content" in the sense of being in a standstill. In fact, true love between two would nourish each other to change - to grow spiritually from strength to strength. If not, the love would be worldly. Not aiding each other to advance towards enlightenment, such a union would only be a match made in Samsara, for Samsara.
"The Heartbreak Kid" syndrome is the cycle of falling in and out of love due to lack of deep mutual understanding. While the audience finds it hilarious, it's no comedy if we are "The Heartbreak Kid" - it's tragic! With strong alternating attachment and aversion, he makes and breaks with lovers throughout the show - even during the last scene. Why break so many hearts - including your own?
Should one try one's best to change the other person for the better, for oneself, or to change oneself for other person? Well, true love is committed to change each other for each other - and for all others! This would be the true meaning of commitment - in the spiritual sense. Even if our commitment is but a worldly one in the moment, we can always strive to "spiritualise' it!