Film depicts pilgrimage to largest Buddhist ritual
by Alex Wilson, The Arkansas Traveler, Feb 25, 2008
Little Rock, Arkansas (USA) -- A University of Arkansas professor who hosted the Tibetan Film Series, presented the third movie of a four-film series in Giffels Auditorium Wednesday.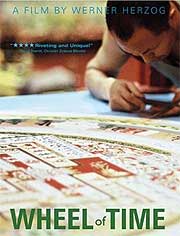 << Werner Herzog's "Wheel of Time"
Before showing the film documentary "Wheel of Time," professor Geshe Thupten Dorjee and student Rinzin Dorjee greeted the audience and the two Tibetan monks provided the audience with an introductory chant.
"There are many different levels of multiphonic chanting," Dorjee said. "Different monasteries have different types of chanting."
"Wheel of Time," directed by German filmmaker Werner Herzog, chronicled the 2002 Kalachakra Initiation in Bodh Gaya, India. It depicted more than a half million pilgrims from all over Asia and Tibet who came together for the largest Buddhist ritual at the site where Buddha reportedly attained enlightenment.
The pilgrimage took many travelers across thousands of miles and culminated in Bodh Gaya, India. Once there, the monks created a sand mandala of the wheel of time. His Holiness the XIV Dalai Lama presided over the ritual.
In the film, Herzog and his crew captured many rituals on film that had rarely been photographed.
Along with the creation of the sand mandala, the film featured Dorjee in a debate. Dorjee also made the pilgrimage.
Dorjee defended and argued many philosophical issues during an interactive debate. These debates can sometimes last for hours or days, and involve one monk standing before the other clapping his hands together at certain instances and important aspects of his argument, according to the film.
"Physical gestures are very important with thousands and thousands of people watching," Dorjee said. "It shows who is speaking and points they're making."
These back-and-forth arguments and counter-arguments are essential to traditional Tibetan debate and understanding, according to the film.
"Wheel of Time" later depicted another pilgrimage to a ceremony of the circumambulation on Mt. Kailash in western Tibet.
Tibetans believe Mt. Kailash to be "the navel of the world." Pilgrims travel thousands of miles to walk clockwise around it in veneration, according to the film.
Many travelers walked the path carrying what little supplies they could manage to bring with them on their journey, while some strapped their gear to yaks and prepared for the harsh terrain.
The travelers depicted in this film took about three days to circumambulate to the mountain's summit.
The presentation ended with an announcement by Sidney Burris, professor of English and co-director of the Tibetan Cultural Institute of Arkansas.
"Geshe la is going to win the Outstanding Faculty Award," Burris said. "He received over twenty letters of nomination."
The Outstanding Faculty Award, sponsored by Associated Student Government and the Arkansas Alumni Association, was given to three faculty members from a pool of approximately 80 who were nominated this year by students, Burris said.
The fourth film of the Tibetan Film Series, "The Tibetan Book of the Dead," is scheduled for March 27.