Malaysia's Wesak International Film Festival (WIFF) 2008 returns in June
The Buddhist Channel, May 3, 2008
Petaling Jaya, Malaysia -- Continuing from its success in 2006 when the first Wesak International Film Festival (WIFF) was organized, WIFF 2008 promises again to present Buddhist-themed and -inspired cinema of all kinds: full-length movies, documentaries, animation, and children's films.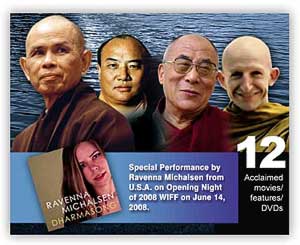 << WIFF 08 is back, bigger and better
For WIFF 2008, a total of 14 Buddhist organizations in the Klang Valley have combined their resources to organize the event with one main objective: to create greater awareness of Buddhism among the general public through the medium of films.
A total of 12 films, comprising full-length movies, documentaries, and animation, will be screened over two weekends: June 14-15, and June 21-22, 2008 at the Malaysia Tourism Center (MTC), Kuala Lumpur. To cater for a crowd expected to be much bigger than in 2006, the Organizers have booked three theatres at MTC for the event.
WIFF 2008 is a non-profit educational event, and there is no entrance charge to the public to attend any of our screenings.
Ravenna Michalsen
, a Buddhist singer and songwriter who recently graduated from Yale University, USA, will be the special star performer during the Opening Ceremony of WIFF on June 14 evening. She will sing songs from her three albums that have already received rave reviews in the United States.
The films will include Qi Xia Temple, 1937, a bio-epic about Venerable Ji Ran (寂然) who as abbot of Qi Xia Temple in Nanjing took it as his duty as a Buddhist monk to shelter those fleeing from the Japanese invasion of China during the Second World War. Chuan Zhen of China produced this film to show how monks, such as Abbot Ji Ran, took part in the war by displaying a fearless spirit of helping others. Ven Ji Ran died the same year, aged only 40, out of physical fatigue. In 1940, his grateful countrymen erected a monument to him.
Angulimala, the story of the famous murderer-turned-saint, is a 2003 Thai production that starred Noppachai Chaiyanam, Stella Malucchi, and John Rattanaveroj. This is a fast-paced movie that began with Angulimala's education when he was 16 to his becoming a murderer and an enlightening encounter with the Buddha that finally halted his bloody quest.
---
On the web: www.wiff.org.my
---
The Dalai Lama, the Noble Peace laureate, is the subject of Rick Ray's, "Ten Questions for the Dalai Lama" produced in 2007. How do you reconcile a commitment to non-violence when faced with violence? Why do the poor often seem happier than the rich? Must a society lose its traditions in order to move into the future? These are some of the questions posed to His Holiness the Dalai Lama by Rick as he examines some of the fundamental questions of our time by weaving together observations from his own journeys throughout India and the Middle East, and the wisdom of an extraordinary spiritual leader.
Peace Is Every Step is an intimate and direct portrait of Noble Peace Prize nominee, Thich Nhat Hanh, of how he lived through the Vietnam war and fought back with meditation, love, and peace. This 2005 film is narrated by actor Ben Kingsley, and produced and directed by Gaetano Kazuo Maida.
Against a backdrop of extraordinarily beautiful and vivid images, Lost Children is an award winning film by Mark Verkerk. Produced in 2008, it tells the story of a Buddhist monk, a former Thai boxing champion, and the work he does with poor children in the desolate and dangerous Golden Triangle region of Thailand.
Bhutanese director Neten Chopling Rinpoche produced Milarepa to tell the story of Tibet's most famous saint. A film about mysticism, sorcery, and magic, Milarepa is also the story of how one can transcend evil to attain to supreme enlightenment where wisdom and compassion reign.
Other interesting movies and documentaries featured in WIFF 2008 include the following: Lion's Roar, a masterful portrayal of the late 16th Gwalwa Karmapa, head of the Karma Kagyu lineage of Tibetan Buddhism; an unforgettable journey into the hidden tradition of China's Zen hermit monks dotting the Zhongnan Mountains in Amongst White Clouds; and an inspiring 2007 documentary, Fearless Mountain, that explores the world of the forest-dwelling monks of Abhayagiri Monastery in the beautiful surroundings of Redwood Valley, California.
Richard Gere and Keanu Reeves return in the Discovering Buddhism Series in WIFF 2008 to narrate on the importance of "Refuge in the Three Jewels" by introducing teachings by various well-known Western Dharma teachers.
To cater to children, South Korean filmmaker Sung Baek-yeop's Oseam promises to be the main animation attraction at WIFF 2008, followed by Fo Guang Shan's Little Monk. Both films will be welcomed by Sunday School children.
For details on the screening time, please refer to the WIFF website: www.wiff.org.my or contact YBAM, 9 Jln SS 25/24, Taman Mayang, 47301 Petaling Jaya, Selangor (Tel. 03-78049154/ 03-78049157).