How to Practise Animal Liberation Wisely
by Ashen, The Buddhist Channel, May 16, 2008
Review of New Documentary by Wisdom Sutra Distributor
Singapore -- According to Acharya Nagarjuna in the Treatise on the Great Perfection of Wisdom, "Among all negative karma, that of killing is the heaviest. Among all positive karma, that for releasing life is the highest." And in the Avatamsaka Sutra, it was taught that "All beings treasure their lives the most. All Buddhas treasure all beings the most. If one saves other beings' lives, one fulfills the wishes of all Buddhas."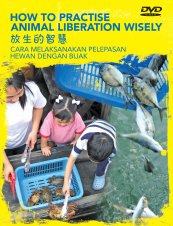 As such, animal liberation is an important and treasured practice in Buddhism. Recently however, due to much publicity of cases of animals liberated into inappropriate environments, the practice of animal liberation on the whole has been severely criticised. Since true animal liberation is always a practice of compassion and wisdom, proper animal liberation can be done. How to do so is very subject of this documentary.
Beyond sparing animals from the knife, Buddhist animal liberation is not just the gift of fearlessness. It is also the gift of spiritual life, as Buddhists attempt to create positive imprints on the animals' minds, to connect them to the Triple Gem. With this karmic affinity, it is sincerely wished that they become free from lower rebirths, have stronger links with the Dharma, and thus advance towards true and total liberation.
Contrary to popular belief, animal liberation is practised not just in the Mahayana tradition, but in the Theravada and Vajrayana traditions too - in many creative ways too! Capturing scenes from India, Sri Lanka, Indonesia and Singapore, not only does the documentary presents balanced and comprehensive views on animal liberation, it also demonstrates how it is interconnected with vegetarianism and environmentalism.
Realising that even tiny insects fear death and crave for life, the practice of animal liberation helps to nurture our sense of unconditional compassion and equanimity for all. Along with English, Chinese, Indonesian, Hokkien and Cantonese audio tracks, interviews of lay practitioners of animal liberation and masters from all three traditions who encourage it are featured. Included is His Holiness the 17th Karmapa's advice.
The Treatise on the Great Perfection of Wisdom also states that compassion is the root of the path to Buddhahood. If so, animal liberation is a natural part of the Bodhisattva path. Thus, even if we are not eager to practise it yet, understanding this practice is important. You can get this free DVD today in Singapore at #03-43 Bras Basah Complex and Evergreen Buddhist Culture Service at #03-15 Pearl Centre. (For overseas queries, please email wisdomsutra@gmail.com.)
More Info:
Prayer for Animal Liberation: http://moonpointer.com/index.php?itemid=1394
Why Animal Liberation: http://groups.yahoo.com/group/zeph/message/465
Elaboration on Animal Liberation: http://moonpointer.com/index.php?itemid=609
Proper Animal Liberation: http://www.TheDailyEnlightenment.com/life.jpg