The Unwinking Gaze: The Inside Story of the Dalai Lama's Struggle for Tibet
By SIOBHAN SYNNOT, The Scotsman, May 25, 2008
Aberdeen, Scotland (UK) -- Documentary maker Joshua Dugdale spent 18 months filming the life of the Dalai Lama and observing the painstaking efforts to engage the Chinese in negotiations towards what he calls the "meaningful autonomy" of Tibet.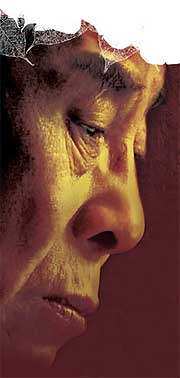 In this austere portrait of a born diplomat, it's the topics on which the ever-cautious Dalai declines to comment that prove the most revealing. Otherwise His Holiness, once described by Rupert Murdoch as "a political monk in Gucci shoes", remains an inscrutable personality.
Dugdale keeps his focus on the political rather than the personal, and, disappointingly, not once in the 18 months does Richard Gere ever drop by.
Backgrounder from the website
"I had seen a number of films on the Dalai Lama, but I felt they didn't show who he really was. It seemed that he was being wheeled out for the cameras, for stage managed set pieces. Knowing that the rhetoric from Beijing claimed that the Dalai Lama was a canny political operator, intent on conning the West into backing his efforts to split off Tibet and weaken China, I wondered whether there was a way of showing his actions and reactions on camera.
I hoped to be able to reveal his true intentions and character and I wanted to create a film, which would show the real world of the 'splittist' Dalai Lama so that those in power in Beijing might be able to make more informed decisions about how they deal with him. With such an enigmatic figure, the only way to achieve this was to treat him like any other politician, showing the world he inhabits and the challenges he faces. The result is extraordinarily rare access into the world of one of the great spiritual leaders of our time." -- Joshua Dugdale
Official website: http://www.unwinkinggaze.com/
• Belmont Picturehouse, Aberdeen and Cameo Cinema, Edinburgh