Magic of First Bhutan Film
By Kimberly Chun, Asianweek.com, Jan 14, 2005
San Francisco, USA -- "You should be careful about dreamland because when you wake up you might not be somewhere quite so pleasant.?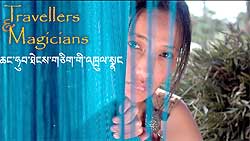 Those words of wisdom are delivered by a traveling Buddhist monk in the first Bhutan feature film, Travellers & Magicians, by writer-director Khyentse Norbu, who helmed 1999?s award-winning The Cup. Born into Bhutan?s nobility, Norbu leads a real double life as an incarnate lama in Tibetan Buddhism. His spiritual savvy and gentle grace show up in this film, an effort that might be compared to Zacharias Kunuk?s Inuit-language epic Atanarjuat (2001).
The film displays an appreciation for a good, resonant yarn, the kind that once might have been told around a campfire and now shows up onscreen via the lens of these visually eloquent, intrepid cinematic storytellers. Unlike Western explorers ? and directors ? who might impose their visions, these indigenous filmmakers venture forth with the narratives, sights and sounds of their homelands to share with the world and to develop moviemaking in their countries ? a challenge that caused Norbu to consult mo, an ancient system of divination, before making major production decisions; conduct special Buddhist ceremonies; and coach some of the cast in Bhutan?s official Dzongkha dialect.
Travellers & Magicians opens with zing ? a lively archery bout in the Himalayas. The straight arrow who?s really yearning to fly free is long-haired, chain-smoking Dondup (played by Tshewang Dendup, a journalist with the Bhutan Broadcasting Service). Brimming with an antsy, restless energy and given to executing David Lee Roth-style kicks to the rock cassettes lodged in his boombox, university graduate Dondup is eager to leave small-town life, and his job as a government officer, for the United States where he will make twice as much money as a fruit picker. When he finds an opening, he packs his bags ? and some dried cheese ? and makes a run for the bus.
Reality, however, collides with his dreams. Buses ? and cars willing to offer rides to hitchhikers ? are few and far between on the roads of the spectacular, green and springlike Himalayas. He encounters a host of quirky, friendly characters including a monk (author Sonam Kinga), an old man, and his lovely and dutiful young daughter, Sonam (Sonam Llamo). Beneath a magnificent, outsized sky, the monk tells the story of an impatient magic student, Tashi (Lhakpa Dorji), who gets lost and ends up in a mysterious scenario that appears to be straight out of a fairy tale and The Postman Never Rings Twice. Dondup is soon drawn to the fresh-faced Sonam.
Like his roadside travelers, Norbu maintains a slow, steady pace ? as if to respect the natural rhythm of a monk walking a dirt road or to the time one would take to eat an apple. It?s a tempo that might put Nintendo-generation viewers to sleep, but it would otherwise sacrifice great, gritty details like when Dondup tries recharging a battery for his boombox with soothing licks and caresses. The director?s precise tone, by turns realistic and magical, is one of the most memorable aspects of Travellers & Magicians ? as is the acting by the nonprofessional cast and the gorgeous, seldom-seen landscapes. Norbu?s care and craft allow us to join him around his campfire for a warm and exhilarating experience.