At festival, Buddhists explore budding bond with film
by Tricia Cambron, Special to The SF Chronicle, Jan 28, 2005
San Francisco, USA -- J.Lo is intrigued by it. Richard Gere is a longtime devotee. According to the tabloids, director Oliver Stone raised his daughter in its traditions. And if anyone had any doubt that Buddhism is big in Hollywood, even the cartoon character Lisa Simpson ("The Simpsons") is now depicted as a Buddhist.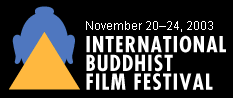 The International Buddhist Film Festival, coming to the Bay Area today through Feb. 13, is a natural extension, says San Francisco Zen Center's Michael Wenger, of the symbiotic relationship evolving between film and the way of the Buddha.
"I think there are two things that are happening. One, the American media and film are discovering Buddhism, but also of interest is that Buddhists are discovering film.
"There is a saying in Buddhism, 'pecking in and pecking out,' and in a certain way this is happening in film," says Wenger. Pecking in and pecking out is a koan about a mother bird pecking from the outside of an egg and a baby bird pecking from the inside. Each is pecking away, trying to get rid of the eggshell, an image that reflects how a teacher and a student each work in their own way on the barriers to wisdom.
"We have a visiting Tibetan teacher who is now doing full-length films, and there are other western Buddhists who are now using film. Many of us who have studied film find it is a very good way to talk -- it is a good expression of Buddhism because it is a series of flashing stills, which in some ways is what life is like. Suzuki-roshi once said the most important thing about film is the empty screen because it can accomodate anything."
Wenger, who recently completed co-writing and editing a book on Buddhism and film to be published this fall by Wisdom Press, has lived at the San Francisco Zen Center since 1972. He will introduce a special program of rarely seen films about the late Shunryu Suzuki-roshi, the founder of the San Francisco Zen Center, on three Sunday evenings: at the Castro Theater in San Francisco on Sunday, at Wheeler Auditorium in Berkeley on Feb. 6, and at the Smith Rafael Film Center in San Rafael on Feb. 13.
Suzuki-roshi, a Japanese Zen priest belonging to the Soto lineage, was in his 50s when he came to San Francisco in 1959. Under his tutelage, the Zen Center grew into City Center, Green Gulch Farm and Tassajara Zen Mountain Center. Suzuki-roshi died in 1971.
The films include a KQED documentary filmed at Tassajara, a five-minute video made by a UCSF student, and a film of a Suzuki-roshi lecture.
Wenger put together a screening of films about Buddhism at the Castro a few years back, but the International Buddhist Film Festival, based in Berkeley, is the first official film festival devoted to the spiritual practice to come to the Bay Area. But the film festival is not the organization's first. Over the last four years, IBFF has presented festival events in cooperation with the Los Angeles County Museum of Art, the Smithsonian Institution in Washington, the Asia Society in New York, and the Buddhist Broadcasting Foundation in Amsterdam. IBFF also functions as a resource for distributing, programming and collecting films about the Buddhist experience.
Throughout the 17-day festival, the curious and converted can choose from more than 50 films, including documentaries, animated works and independent films from 15 countries, including several premieres with directors attending.
Among film highlights are a Fresh Look presentation of Jim Jarmusch's "Dead Man" (starring Johnny Depp, with a soundtrack by Neil Young); the San Francisco premiere of a little-known Giuseppe Tornatore ("Cinema
Paradiso") classic, "A Pure Formality" (starring Roman Polanski and Gerard Depardieu); the U.S. premiere of "Beyond the Mountain," by Korean director Chung Ji-young; the San Francisco premiere of "Hi! Dharma," by Korean director Kwan Park; and the U.S. premiere of a Thai feature, "Angulimala," by Suthed Tunnirat.
The festival also will screen the San Francisco premiere of the documentary "What Remains of Us," shot inside Tibet over eight years (1996- 2004), using small, sometimes hidden, digital cameras and without the sanction, or even knowledge, of the Chinese authorities.
Works by Bay Area filmmakers, including Ellen Bruno, Isaac Solotaroff and Sapana Sakya, will be presented.
One hot ticket is sure to be "The Compassion Concert," with Mickey Hart, Hamza El Din, former Kronos Quartet cellist Joan Jeanrenaud ("and
friends") Feb. 11 at Zellerbach Hall in Berkeley. Concert proceeds will benefit the Buddhist Film Society, with 10 percent of proceeds going to the tsunami relief effort.
Promising to be as intriguing as the film programming is a two-day conference on "Speaking for the Buddha? Buddhism and the Media." Organized by the Center for Buddhist Studies and the Institute of East Asian Studies, it will be offered at UC Berkeley's Barrows Hall, Feb. 8-9. The first day will be devoted to print media, the second to film, with panel discussions of Buddhist themes in movies, Hollywood's role in American Buddhism, and the use of Buddhist concepts and images in American advertising. A 30-minute screening of TV commercials and print ads from the U.S. media will be followed by a roundtable discussion. The conference is free and open to the public.
"Reflecting Buddha: Images By Contemporary Photographers," an exhibition and sale benefiting IBFF, opened earlier this month at the San Francisco Art Commission gallery. The exhibition, which closes Saturday, explores diverse Buddhist themes, ideas and imagery. Thirty-one artists contributed to the exhibition, including Richard Gere, Lena Herzog, Kenro Izu, Michael Kenna, Wayne Levin and Steve McCurry.
If you go
The International Buddhist Film Festival opens today and runs through Feb. 13 with screenings at the Castro Theater in San Francisco today-Sunday; the Wheeler Auditorium in Berkeley, Thursday-Feb.13; and the Smith Rafael Film Center in San Rafael, Feb. 10-13. www.ibff.org; (925) 275-9005.
For details on the Buddha and the Media conference, visit ieas.berkeley.edu/events/speakingforthebuddha.