Documentary explores the fabrics of spirituality
by Chris Martell, Wisconsin State Journal, Oct 4, 2008
Madison, WI (USA) -- Threads of both time and spirituality are what Isadora Gabrielle Leidenfrost weaves together in her one-of-a-kind career. In addition to being a Ph.D. student at UW-Madison, she is a documentary filmmaker, and a historian who studies the role of textiles in religious worship.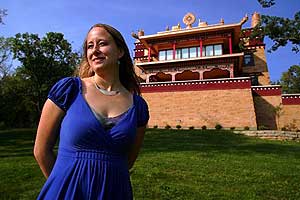 << Isadora Gabrielle Leidenfrost is a spiritual textiles historian whose new documentary will benefit the Deer Park Buddhist Center in Oregon, pictured here.
Her latest documentary, "Creating Buddhas: The Making and Meaning of Fabric Thangkas,'' was released in September and will be shown at a series of screenings here and across the nation. The Deer Park Buddhist Center in Oregon will receive part of the money from DVD sales.
Leidenfrost's documentary tells the story of an American woman, Leslie Rinchen-Wongmo, who spent nine years in India studying the endangered art of making fabric thangkas, and now splits her time between California and Italy and sews them on commission. Thangkas are narrative art that tells the stories of the Buddhas.
After a thangka is blessed by monks, everyone who sees it is said to gain enlightenment. In Tibet, fabric art is considered higher than painting or sculpture because silk is costly and applique and embroidery is so time-consuming.
Thangka-making is not meant to be a creative endeavor since they must conform to iconographic specifications, as well as regional and doctrinal style differences. Fabric thangkas, which date at least to the 13th century, were also treasured because they're portable, which was important in nomadic cultures. While some thangkas are small, others weigh 1,000 pounds or so and must be carried by about hundreds of monks when they are brought from storage in temples and unfurled on mountains or walls.
"Fabric is very important to Tibetans," Leidenfrost said. "You see it in the garments, the temple hangings and banners, and in the prayer flags."
Many of Tibet's fabric thangkas were destroyed when its monasteries were desecrated during China's Cultural Revolution. And even if that hadn't occurred, fabric thangkas are so rare that many practicing Buddhists have never seen one.
Video
Leidenfrost stumbled upon the subject of her documentary during a Google search. Rinchen-Wongmo, who uses her Buddhist name, is one of the few female fabric thangka masters in the world. Leidenfrost approached her to ask if be willing to sew a thangka in the image of green Tara, the Buddhist goddess of compassion who symbolizes women's capacity for enlightenment, and is a beloved mother figure.
"As a woman, I've always been interested in Tara's story," Leidenfrost said.
The documentary chronicles the process of Rinchen-Wongmo's sewing the Tara thangka, which took about six months of full-time work. Leidenfrost found experts on related subjects to interview, and temple music to use in the background.
"If the music isn't good, the film won't be good,'' she said. "Luckily, every musician gave me their stuff free."
Also helpful were the grant-writing classes she took as an undergraduate at the Rhode Island School of Design.
"I've gotten grants for all my research trips," she said. "When I started this, there was no published research on fabric thangkas. It's a part of Tibetan culture that should be preserved."
She has also done work with Hindu spiritual textiles, a film on African-American women's church hats, and on textile traditions of Celtic women's groups. In the future she plans to explore the spiritual textiles of Cambodia, Africa and South America.
Leidenfrost, 27, said that while she has an affinity for Buddhism, she doesn't identify herself as belonging to any single religion. Leidenfrost's father ran a multi-faith spiritual center, and she met the Dalai Lama for the first time when she was a year old. Many years later she gave him a "virtual thangka" she had filmed for him.
"I've been exposed to a lot, so it's easy for me to cross borders," she said. "I can do research, but stay on the outside."
Unlike most documentary makers, Leidenfrost doesn't aspire to show her films at festivals like Sundance.
"I plan to show my films in museums and places of learning," she said. "Film is such an easy medium for teaching people."
The Venerable Chowng, of Deer Park Buddhist Center, said at least 35 people attended the documentary's premiere, and not all of them were Buddhists.
"They seemed very interested because this is something unique, and people were quite interested in the craftsmanship involved,'' he said. "This is nice because there aren't many films about textiles, or Buddhism, or even Tibetan culture. A couple of people asked if (Rinchen-Womgo) was accepting students, and we were told she expects a three-year commitment from her students. Thangka-making is a very tedious craft -- you can't just whip them out."
Chowng said a giant fabric thangka, at least three stories high, was loaned to Deer Park during last summer's visit by the Dalai Lama, and the center's own collection includes several fabric thangkas, including some of Tara.
"Everybody loves Tara," he said. "She's one of the most important figures in the teaching of Buddhism. She's always ready for beneficial activity, so you never see her in full lotus position. She's always pictured with one leg stepping out, ready for action."
IF YOU GO
The documentary "Creating Buddhas" by Isadora Gabrielle Leidenfrost will be shown:
Thursday Oct. 2, 7:30 p.m. at Shambhala Center of Madison, 408 S. Baldwin St.
Friday Oct. 10, 8 p.m. at Mimosa, 260 W. Gilman St.
Sunday Oct. 19, 1:30 p.m. room 21, UW-Madison School of Human Ecology, 1300 Linden Drive
Saturday Nov. 8, 1 p.m., Alisha Ashman Madison Public Library, 733 N. High Point Road
Tuesday Nov. 11, 7 p.m., James Reeb Unitarian Church, 2146 E. Johnson St.