Buddhist Superhero Epic to Inspire During Recession
by Ashin Mettacara, Newsnow.co.uk, March 5, 2009
London, UK -- As the world reels from some of the worst economic conditions in recent history, people are dealing with serious depression on all fronts. At a time like this the Buddha's teachings on persistence, endurance and compassion are all the more relevant for people of all faiths who are increasingly seeking comfort through spirituality.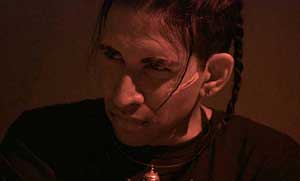 For this reason, Canadian Buddhist Zen Duke has brought together talented artists from all over the world and all faiths including all Buddhist sects from Nichiren and Zen to Western and even Chinese. They are now on the verge of completing an ambitious global epic that will promote inspirational Buddhist teachings and philosophies to a mainstream English speaking audience like no other film before it.
Engaging the concept of Upaya or "skillful means", the film merges together 2 all-time classics "Robin Hood" and Shantideva's "Way Of The Bodhisattva" and uses such Hollywood elements as rare and trademark martial arts, soulful romance and razor-sharp wit to promote the Dharma in a cool and sleek way to a global English speaking audience. Set in present-day America, the epic brings east and west together by filming in renown locations of the US, Canada, England, France, Japan, Switzerland, Hungary, Thailand, Singapore and India on an ambitious global scale rarely seen outside the Hollywood studio system.
As Zen Duke states "this is quite possibly the first English film that directly promotes so many Buddhist concepts from Bodhisattvas to Dharmapalas along with powerful teachings of Lord Buddha in a manner that can inspire and empower all audiences. It is also the first English film to pay homage to Bodhi Dharma -- venerated across Asia as the founder of Zen Buddhism and Kung Fu as well as the first to use never-before-filmed martial arts to promote Buddhist principles the way the Shaolin monks and Japanese Samurai use to".
Zen Duke himself fell in love with the Dharma when he was in India meeting with Bodhisattva and Nobel Laureate Mother Teresa and serving as a social worker poor children with disabilities and child victims of HIV, drug abuse and prostitution. They taught him to always smile through life's obstacles and often disarm them with a good sense of humor which explains the witty tone of the film. Furthermore, while visiting the place where Lord Buddha gained enlightenment in Bodh Gaya, Zen felt profound emotion and realized he had found his life's calling and began to study the Dharma with a passion. During his time in India, he also referenced other aspects of Indian culture that influenced the sutras from the culture of the Kshatriya warriors who were the original Buddhist teachers to aspects of the Gita and Ramayana and other Hindu scriptures that first defined certain terms that subsequently found their way into Buddhism. In fact Randy Murton, News Editor of Canada's biggest media giant
Rogers City TV has referred to Zen Duke as "the next Deepak Chopra -- the West's brand new ambassador for Indian spirituality".
Upon returning to the West, Zen used the Buddha's teachings to overcome unfathomable adversity in his own personal life and has since become a charismatic Buddhist motivational speaker who makes the Dharma exciting and applicable to our day to day lives in a whole new manner that today's generation can relate to and be inspired by. However what truly surprised Zen was the realization that many aspects of the Dharma have been misrepresented in the West and so he is determined to promote the true Buddha Dharma of the incomparable Shakaymuni and is writing a book to clarify and correct the clichéd myths that have become associated with certain aspects of Buddhism especially in America.
The film is completely non-political and is meant for both Buddhist and non-Buddhist audiences as it uses the popular superhero genre to both entertain and empower all demographics with an inspirational message during these challenging times.
In fact not only has Zen used these same Buddhist credos to dwarf insurmountable odds in his own life but he has also used them to help his cast-mates deal with severe problems in their personal and family lives from battling cancer to recovering from near blindness.
The theme of the film is synonymous with the famous words of Bodhi Dharma -- represented by Daruma dolls across Japan. His mantra Nana Korobi Yaoki in Japanese means "If you fall down 7 times, Get up 8". Indeed a lesson that can inspire and empower audiences of all faiths during the present recession when Buddha's teachings are all the more relevant.
Zen Duke is an actor-director-Buddhist motivational speaker who has been featured by major media outlets across the world and can be visited at www.zenduke.com and www.robinhoodfilm.com