Preview: International Buddhist Film Festival
Londonist, May 6, 2009
London, UK -- Visiting the UK for the first time, the IBFF begins this week at the Barbican, featuring a judiciously selected assortment of films Buddhist in either story or spirit. Over 40 film, representing a dozen nations, are promised, with 20 making their UK debut.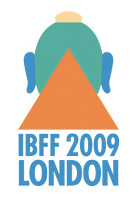 The organisers have cannily divided the season into segments which explore different aspects of Buddhist theology and experience. Hence, in "Mind The Gap", the curators examine the state of bardo, or the "transitions through life, death, and the dreamlike world", through contemporary films such as Donnie Darko and Dead Man, while "Journeys Within" features a documentary on the making of Martin Scorcese's Kundun.
Taking the festival's theme more literally is Lucia Rijker: a Boxer, a Buddist, a documentary on the eponymous, undefeated kickboxer, in which she attempts to rationalise the sport with her religion's characteristic non-violence. A fictional counterpart can be found in Ghost Dog: Way of the Samurai, Jim Jarmusch's modern-day exploration of the code of the noble warrior.
The festival will also be graced by the presence of Dan Cruikshank, who will discuss the making of his BBC documentary The Lost World of Tibet, and an intriguing talk on Bhutan which will show excerpts of the film Happiness, Buddhism and Change in Bhutan, which delves into the Himalayan nation's principle of 'Gross National Happiness'.
The International Buddhist Film Festival runs from May 7th till 17th, at the Barbican. The full programme is available here. Multibuy ticket offer: book three festival tickets or more and get the tickets for £6 each.