Gowariker to recreate life of Buddha onscreen
ANI, May 12, 2009
Mumbai, India -- Award winning director Ashutosh Gowariker is all set to direct an English film based on the life of Gautam Buddha. The movie, to be produced by the Spice Infotainment Ltd, is believed to be the most expensive film ever made in Bollywood with a whopping amount of rupees 600 crores.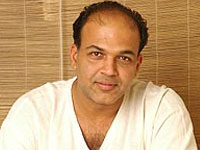 Incidentally, it was Gowariker who had portrayed the life of Buddha in another award winning director, Shyam Benegal's popular television series 'Discovery of India'. Addressing a press conference in here on Sunday, Gowariker said that the script of the movie has been written by Academy Award winner David Ward and will be titled 'Buddha'.
When asked about who among the Bollywood actors would portray the character of Buddha in his film, Gowariker said that he is yet to finalise the actor.
"I think the scope of Buddha is global that there are so many countries that are deeply interested, if they had not become Buddhist they are deeply taking interest in learning about Buddhism, learning about what Buddha was all about and keeping that in mind, an international face could do justice to the character as much as an Indian face could," said Gowariker.
Speaking about the movie's budget, he said that to re-create the history would be an expensive proposition. "This is the story that unfolded 2,500 years ago. A time in ancient Indian when you had slavery, you had cruelty and neither that is completely far removed from what we have today. To re-create that is an expensive proposition," added Gowariker.
Based on the book Old Path White Clouds by a Vietnamese Buddhist monk Thichhat Hanh, the movie will be shot in the Himalayas. 'Buddha', with a diverse cast and crew, is expected to go on the floor in May 2010 and be completed by the end of the year. Spice follows in the heels of local firms UTV Motion Pictures and the Reliance Entertainment that are looking beyond Indian shores for content and audiences.