A Long Journey to Document a Monk's Long Journey
by MICHAEL POWELL, The New York Times, June 5, 2009
New York, USA -- As uncertainty is profoundly unappetizing to film investors, you can imagine how this documentary pitch went over: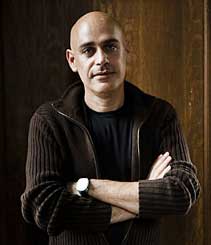 << The filmmaker Nati Baratz, director of "Unmistaken Child."
Photo: Chad Batka
The Israeli filmmaker Nati Baratz proposed in 2002 to follow a young Tibetan Buddhist monk on the search for the reincarnation of a revered 84-year-old master, Geshe Lama Konchog. The monk's journey would extend from southern India to remote Himalayan valleys edging from Nepal into Tibet. The timing was uncertain in extremis: the monk's search could take a year, or 5, or 20.
And that is not to mention the metaphysical uncertainty. Reincarnation in Tibetan Buddhism is nonlinear, less about the transmigration of the soul than about the passing of a stream of consciousness. "What if," the monk Tenzin Zopa worried aloud in his tent one night, "I fail to recognize my master's new form?"
Mr. Baratz, who shared that tent and shot the film on a budget of substantially less than $1 million, recalls silently cringing.
"That's a problem — no one wants to take a risk on my film because maybe we will not find the reincarnation," Mr. Baratz said in an interview. "I was working 20 hours a day just to fund-raise my next month of shooting."
Yet seven years later Mr. Baratz, 39, has emerged with a most unusual film, "Unnmistaken Child," which documents Mr. Zopa's search, with reliance on dreams and astrological signs and portents divined in cremation ashes, for the reincarnation of his Lama master. The documentary opened at the Film Forum on Wednesday, before rolling out to Los Angeles, Denver, San Francisco, Washington and other cities.
In the end the monk is drawn to a cherubic toddler in a village beyond the reach of electricity or roads. The child passes an evocative set of tests conducted by elder lamas (he chooses among bells and sets of prayer beads and identifies the ones belonging to the departed master) and is declared a reincarnated rinpoche, or "precious one." But reincarnation's truth remains elusive, the realm of faith more than of empiricism.
It is the nature of Mr. Zopa's devotion, from life into death and into life again, that provides the essence of this meditative film. The young monk is captured in vulnerability, grief and doubt. (Upon his return to his master's cave, Mr. Zopa turns a pained face from the camera—"It's not good for a monk to cry," he says hoarsely). His journey from bereft disciple to teacher of an Unmistaken Child is unmistakably moving.
Mr. Baratz, whose tentative smile and probing eyes seem to work in concert, came to this film almost by accident. Exhausted by the cycles of violence in the Middle East, he and his wife roamed the Himalayan nations, slowly becoming entranced by Buddhist culture. In 2002 they biked from Lhasa to Katmandu, where they passed a month meditating at the Kopan Monastery.
One night they heard Mr. Zopa speak of his bald, perpetually smiling and now deceased master, who had meditated for 20 years in a cave in the remote Tsum Valley.
"At the end, he requested us to pray for the swift return of his master," Mr. Baratz recalled. "I thought, 'Oh my God, this huge-hearted monk is going to look for the reincarnation of his master.' "
The next morning Mr. Baratz sneaked outside the monastery for a cigarette; he had barely slept. A film school graduate, he had made documentaries for Israeli television but never felt such urgency to shoot a film.
"My wife said to me, 'What are you waiting for?'" he recalled. "This is the project you have been looking for.' "
Mr. Baratz sought out Mr. Zopa. "Look," he said, "I am not a Buddhist, and I don't know what to think about reincarnation, but I feel a great empathy for the Tibetan culture."
Mr. Zopa was open to the idea: he thought such a film would honor Lama Konchog and teach the world about reincarnation. Tibetans adopted belief in Lama reincarnation in medieval times. "Our present life is not an end in itself," said Tenzin Tethong, a fellow in the Tibetan Studies Initiative at Stanford University. "So Tibetans took it upon themselves to say, 'Well, then, lamas should come back to keep educating us.' "
But the search can be uncertain and fraught with politics. The current Dalai Lama has suggested that his reincarnation might be found outside Tibet, perhaps a Westerner, perhaps a girl.
Mr. Zopa searched closer to home. And his trust was not so easily gained. It took two months to persuade him to wear a neck microphone, six months for him to talk freely on film. A senior lama imposed a stringent condition: Mr. Baratz could show no outtakes to potential financial supporters until the Dalai Lama blessed the reincarnated form.
"That meant I could not raise any money," Mr. Baratz said, smiling faintly. "It was interesting, you know?"
Mr. Zopa refused at first to search; he was twisted by doubt. Only Buddha knows Buddha, he told Mr. Baratz. Slowly he came to embrace the search and his own maturation. "Tenzin came to like the camera," Mr. Baratz said. "He became a very modern monk."
The technical difficulties confronting Mr. Baratz were formidable: jarring bus rides, walks across mountain paths as narrow as a shoe, a mule lost to a mountain gorge. This was an otherworldly land of medieval villages, mountains, spiraling waterfalls and perpetual snow, but he was wary lest the monumental overwhelm the soft-spoken voyager at his film's heart.
And what of the director? After so many months in the company of Mr. Zopa, after watching that preternaturally self-possessed child, had he emerged a believer?
"You know, it is the biggest question of all," Mr. Baratz said. "I want people to ask that question of themselves, to be confused, you know?"
"To witness Tenzin's very human journey was my privilege enough."