Dhamma Dana: What Burma is All About
The Buddhist Channel, Sept 11, 2009
Documentary delves deep into Burmese Buddhism for a good cause
Boston, Massachusetts (USA) -- Dhamma Dana, the second award winning film from up-and-coming filmmaker Theodore Martland, takes you inside the Theravada Monastic tradition of Myanmar (Burma).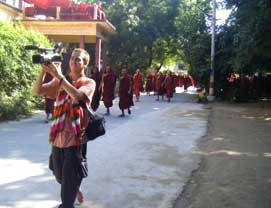 << This photo taken by Zachary Schlosser during the production of the film Dhamma Dana has been featured in The New York Times' Education Life section
Filmed on a 26-day special permission visa in 2008, the 30-minute documentary introduces the Theravada philosophy of monastic life while visiting monasteries, meditation centers, and sacred sites around the country.
The former president of the Theravada University in Yangon outlines the basic tenets while meditation masters, monks, and one very heart-warming Burmese nun give commentary about the tradition.
The film is on sale for a good cause at a very low price. All the profit from the sale of the DVD benefits the Dhamma Moli Project, a project that provides a home and education for young girls who are at risk of being sold to sex-traffickers.
Dhamma Dana wins Award of Merit for cinematography
Theodore Martland has won two prestigious Awards of Merit from The Accolade Competition. The award was given for Martland's short documentary, Dhamma Dana, which provides incredible insight into the Theravada Buddhist monastic tradition of Myanmar (Burma). The film was also awarded for its exceptional cinematography.
"It is pleasing to see a documentary on such an ancient spiritual tradition receive recognition alongside some very contemporary and entertaining films," says Martland, who individually directed, photographed, and edited the film.
The Accolade recognizes film, television, and videography professionals who demonstrate exceptional achievement in craft and creativity, and those who produce standout entertainment or contribute to profound social change. Entries are judged by highly qualified professionals in the film and television industry.
In winning two Accolades, Theodore Martland joins the ranks of other high-profile winners of this internationally respected award. Thomas Baker, PhD, who chairs The Accolade, had this to say about the recent winners, "The Accolade is not an easy award to win.
Entries are received from around the world. The Accolade helps set the standard for craft and creativity. The judges were pleased with the exceptionally high quality of entries."
Visit the film's website and take a front row seat to the astonishingly ancient spiritual tradition of modern day Burma.
Dhamma Dana documentary: www.lowpressurefilms.com
http://theodoremartland.wordpress.com/