Buddhist festival seeks to transcend boundaries
By KATE HOWARD, Fair View Observer, Oct 23, 2005
Nashville, Tennessee (USA) -- Without a code to live by, Bhikkhu Nyanasobhano believes, humans drift along on the winds of desire and satisfaction but have no peace.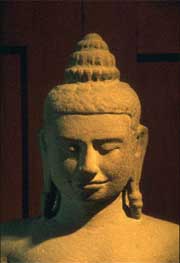 The Theravada monk said this thirst for enlightenment and a code to live by is the force that would bring more than a hundred people, Buddhists and otherwise, to a Buddhist festival on a beautiful Saturday when they could be having a cookout or playing football.

"Even for the nonreligious or those with no interest in Buddhism, there is something going on underneath, and that is a desire for transcendence," said Nyanasobhano, wearing a yellow robe and sitting beneath a tent at the Third Annual Nashville Buddhist Festival.
Buddhists, Christians and the interested gathered yesterday on the lawn behind the barn at the First Church Unity in Nashville at 5125 Franklin Pike. Most soaked in the sunshine sitting cross-legged, barefoot and straight backed, reminiscent of a meditation pose.
The festival brought together speakers from four main schools of Buddhist teaching represented in the Nashville area — Theravada, Tibetan, Shambhala and Zen. The day started off with 108 gong strikes, the sacred number that represents the 12 months multiplied by the nine planets — in other words, all time and space. Panelists addressed questions about Buddhist traditions and enlightenment, and speakers shared stories from their respective Buddhist traditions.
While Buddhism may not be appear to be widespread in Middle Tennessee, Rita Frizzell of Nashville said she meets many Christians curious about the teachings and traditions behind the Eastern philosophy.
"Here in Nashville, even though we're in the buckle of the Bible Belt, I've found people are spiritually interested in all ways," said Frizzell, who is ordained in the teachings of Tibetan Buddhism and who spoke during a question and answer panel.
Mary Ann Brandon of Nashville is one of those people who's eager to learn about the philosophy. While she's not a practicing Buddhist, Brandon said she's been reading the teachings of Buddhism and is interested in what the religion has to offer.
"Every time I'm around people trying to find a way to be kind and decent, I certainly learn something," Brandon said.
The goal of the annual festival is to give the curious a foothold in Buddhism's teachings, said Hunter Armistead of the Padmasambhava Buddhist Center, a Tibetan Buddhist group.
"We really want to demythologize Buddhism and dispel some of the misconceptions," Armistead said. "We want to allow people to sample the teachings we have to offer and see what works for them."
Meanwhile, Justin Garza of Nashville said he thinks Christians can easily incorporate elements of Buddhism into their faith. Garza was raised as a Catholic in Mexico and converted to Eastern Orthodox Christianity when he moved to Tennessee. He's pretty sure he'll stay with that church, but he said both religions strive for peace, enlightenment and compassion for all people.
"I'm really into compassion," Garza said. "I need all I can get, and I try to give as much as I can, too."