Home Letters


Singapore's Minister Did NOT Meet THE Panchen Lama
By Ye Zun, Singapore, The Buddhist Channel, Oct 9, 2010
With reference to the report 'George Yeo Meets Tibet's Panchen Lama' in The Straits Times on 14 September 2010, while it is true that the Panchen Lama is 'the most powerful figure in Tibetan Buddhism after the Dalai Lama', the one chosen by the Chinese government to be its spokesperson is not the spiritually legitimate one recognised by the orthodox Tibetan Buddhist community worldwide – including that which thrives in increasing numbers in Singapore and worldwide.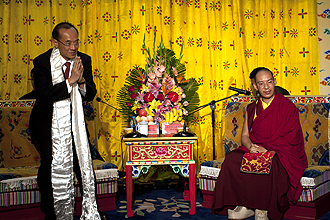 In effect, because the real Panchen Lama has been captured by the Chinese government, the most powerful free figure in Tibetan Buddhism after His Holiness the 14th Dalai Lama is now His Holiness the 17th Karmapa – who has successfully fled from Chinese control.

It is most curious why George Yeo, being a Catholic, was doubly eager to be 'the first foreign leader known to meet the Panchen Lama'. As there was no report of their widely reported meeting to involve discussion of the Buddhist teachings, can it be assumed that it wasn't to learn about Buddhism? If this is so, and since this so-called 'Panchen Lama' (Gyaltsen Norbu) is clearly a religio-political figure, it must surely be a political discussion which used 'religion' as a platform? Is this ultimately for public relations, profiteering and power?

Amazingly, the small country that is 'Singapore' has now officially become the first country to embrace who is probably the most controversial religious 'leader' in the world today. This is most incredible – because the Singapore government has been known to draw clear lines between state and religion, while this meeting makes murky the lines between another country's 'religion' and Singapore's politics. The invitation of the so-called 'Panchen Lama' to Singapore will surely disrupt the politico-religious harmony in Singapore – and make many Buddhists lose respect for both governments.

About this so-called 'Panchen Lama' having 'taken his monastic vows', is he aware that he is living a huge lie every day – by pretending to be more authentic than the actual Panchen Lama (Gedhun Choekyi Nyima), who remains the world's youngest political prisoner, abducted by the Chinese government at the age of six in 1995? (See http://www.freepanchenlama.org) 'He will have to shoulder very heavy responsibilities.' Indeed – for he should openly admit to a worldwide audience at the right time, that he is just a puppet, and speak up for freeing the real Panchen Lama.

Then again, he might have state-warned considerations at stake, as he was 'obviously very carefully educated'? On him having to 'serve his people, both people of China and the people of Tibet', Robert Barnett, a Tibet expert at Columbia University said, 'Certainly it is almost impossible to find any sign in Tibet or among Tibetans of a view that he is the Panchen Lama. The [Chinese] government effort to persuade people to accept him shows no sign of having worked at all.' (See http://www.timesonline.co.uk/tol/news/world/asia/article7053071.ece) It is worth noting that Yeo Guat Kwang is 'an advisor to Buddhist groups' only politically, as he seems unaware of the sensitivity of endorsing this wrong religious leader. Likewise is the case for Lee Bock Guan and Venerable Kwang Sheng, who might also be ignorant of the implications of supporting the meeting. The latter, being the president of Singapore Buddhist Federation (SBF) in Singapore, will, with SBF, lose the respect of international adherents of Tibetan Buddhism (if not already so), and confuse many Buddhists not aware of the controversy, by continuing association with the so-called 'Panchen Lama'.

SBF can hardly represent the Tibetan Buddhist community in Singapore – as it has no active Tibetan Buddhist organisation under its very limited umbrella. Yet, to expand its umbrella, respect must be earned by doing the right thing. It is not to late for SBF to put forth a public statement that its apparent endorsement of the so-called 'Panchen Lama' was a mistake, and officially apologise to all Buddhists – so as to win back the respect of the whole Buddhist community, as even many non-adherents of Tibetan Buddhism already know the so-called 'Panchen Lama' to be fake.

If there are political considerations which prohibit this, the least that can be done is to leak this apology informally to the masses – to seek wide understanding of the real situation. If the so-called 'Panchen Lama' does arrive in Singapore, welcome with open arms by SBF, it might well be a major milestone marking its spiritual downfall – for being a 'central' Buddhist body that betrays Buddhists and Buddhism.