Kendal Buddhists celebrate 25 years of faith
by Rachel Kitchen, The West Morland Gazette, Oct 3, 2016
Kendal, UK -- Members of the Buddhist Group of Kendal (Theravada) gathered for a retreat at the town's Fellside Centre to mark the milestone.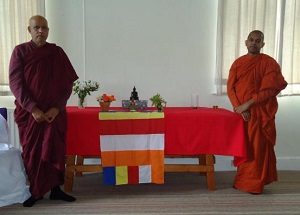 << BUDDHISTS in Kendal are celebrating 25 years of practising their faith together.
"We hope the next 25 years will be as wonderful, beneficial and peaceful as the first," secretary Jacquetta Gomes told the Gazette.
"We are very grateful to everyone who has supported us. We find it helpful to practise with people we have been in contact with for over 20 years but are also very happy when new people join us."
Theravada is the oldest school of Buddhism, explained Jacquetta. Its name means 'doctrine of the elders' and it is practised in Sri Lanka, Burma, Thailand, Laos and Cambodia.
The silver anniversary retreat was led by two Buddhist monks, Venerable Udunuwara Indarathana and Venerable Pidiville Piyatissa, who often teaches at the Kendal group and is head of a monastery in Manchester.
As Jacquetta explained, a 'beautiful' sentence on Buddhist traditions was sent by Lama Yeshe Rinpoche, abbot and retreat master of Kagyu Samye Ling Monastery and Tibetan Centre in Scotland. The words were read out at the celebration.
Over the years, many senior monks and spiritual advisors have enriched the Kendal group, including visits by a cave-dwelling monk from Sri Lanka, and the gift of a collection of books from a senior Thai monk, Ajahn Pannyavaddho Thera.
Group secretary Jacquetta, the world's first acknowledged female Buddhist fire chaplain, co-authored the book Introducing Buddhism, which has been published in Malaysia, Sri Lanka, Taiwan, the UK and the USA.
Writings by Kendal members have also featured in the The Chinese Buddhist Encyclopaedia and The Buddhist elibrary and journals, and in spring 2016 an article was published in the internationally respected, New York-based Buddhist journal Tricycle.
The Kendal group has good relations with Kendal Town Council, said Jacquetta, and members have taken part in interfaith activities and attended the enthronement of the Bishop of Carlisle, the Rt Rev James Newcome, in 2009.
It is represented on South Lakeland Community Flood Recovery and South Lakeland Equality and Diversity Partnership, and close links are enjoyed with other small Cumbrian Buddhist groups, especially in Keswick. For Buddhists who cannot attend meetings because of family commitments, meditation is held at home from 7-9pm on the four monthly moon days.
To find out more, visit http://buddhistgroupofkendal.co.uk
TOP