One hundred years of Buddhism in Hamburg
by Michael den Hoet, The Buddhist Channel, June 7, 2006
Vesakh to be celebrated on Sunday, June 11, 2006
Hamburg, Germany -- Buddhism in the West – just a fashionable trend? Not at all! As early as the 19th century people in Germany began to develop an interest in Buddhism. The most prominent of all was the philosopher Arthur Schopenhauer (1788 - 1860) who called himself a "Buddhaist" 150 year ago.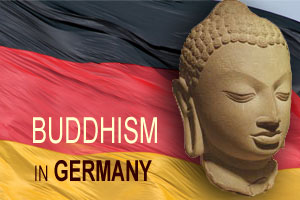 The first Buddhist Group was established in Hamburg one hundred years ago, in 1906. The members of this group were not Asian immigrants nostalgically striving to keep up their native traditions but Germans looking to expand their horizons.
As a city traditionally active in international trade, Hamburg developed an interest in foreign cultures very early. Intellectuals were especially interested in Buddha's teachings. In 1914 a professorship for Indian studies was established at the "Colonial Institute", later at the university (founded in 1919), and Buddhism was on the curriculum.
Two Buddhist groups were very active in Hamburg during the 1920s, but the intellectual narrowness of the Nazi dictatorship brought them both to a halt. After World War II people interested in Buddhism got together again. 1954 saw the founding of the "Buddhistische Gesellschaft Hamburg" (BGH), which brought together various small groups of differing styles.
Hamburg Buddhists founded the "Haus der Stille" in Roseburg in 1962, which was the first meeting and retreat place in the countryside. By the end of the Sixties the first Zen groups had appeared, and by the middle of the Seventies the first Tibetan Buddhist centres were founded in H amburg.
Today, about 40 Buddhist centres and groups are active in Hamburg, representing the whole range of Buddhism from the more traditional Asian style to the modern western style – there are groups practising Theravada, Zen and the various schools of Tibetan Buddhism. Today several thousand citizens of Hamburg practice Buddhism in one of those groups and centres. At the university courses are offered in Buddhism as well as Tibetan philology.
Buddhism Lives!
Although Buddhism is generally regarded with sympathy in the West, it is not generally seen in public. Buddhism has however been present in Hamburg for more than a hundred years. Today there is a lively Buddhist scene in and around Hamburg. You can get in touch with these groups on Sunday, 11th June 2006. In a beautiful, family friendly, open-air setting these Buddhist groups will celebrate Vesakh, one of the most important Buddhist holidays of the Buddhist cultures of Asia. This year's festivities also serve to celebrate 100 years of Hamburg Buddhism, the first Buddhist group having been established in 1906.
The Vesakh event will take place at the "Große Wallanlagen" in "Planten un Blomen" near Millerntor (not to be confused with the main entrance of the Congress Centre, located 1,5 km away). From 11.30 am until 8 pm Hamburg Buddhist groups invite you (free of charge) to enjoy events such as introductory talks, meditation, ceremonies and Zen archery as well as an enticing music program, in various tents around the meadow and in a small amphitheatre.
We are very proud to present a Special Guest from Nepal: The famous singing nun Ani Choying will perform Tibetan songs. Ani Choying is well-known through concert tours in Asia, Norterhn America and Europe.
The Vesakh celebration is organised by a team of 17 different Buddhist centres and groups in Hamburg.
What is Vesakh?
Vesakh is the world's most important Buddhist celebration.
It is the day of the birth, enlightenment and death of the historical Buddha Shakyamuni who lived nearly 2500 years ago. For most of the Buddhist countries in Asia Vesakh is a national holiday, celebrated at the full moon in May or in early June. Some years ago the United Nations (UNO) recognized Vesakh as an official worldwide holiday.
In Germany Buddhists of different traditions also celebrate Vesakh together. In major German cities such as Munich and Berlin, public celebrations of Vesakh are a regular part of the cultural calendar.
In recent years Buddhists began to celebrate Vesakh in Hamburg. The most successful celebration to date was in 2005, when more than 5000 visitors enjoyed Hamburg's first open-air Vesakh celebration and beautiful weather.
Website in German: www.vesakh-hamburg.de