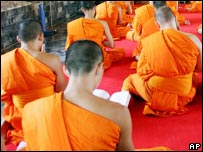 << Buddhist monks
Buddhist monks are among those who will use the centre
It will see Buddhist Monks and Mother Teresa nuns move into a disused church in Blackfriars Street, which is owned by the Italian government. Sir Tom said that if the centre got the go-ahead it would be a "tremendous asset" to the city.
He told BBC Scotland's news website he had been approached by Edinburgh's Interfaith Association, adding that the United Presbyterian Church has been empty for some time.
"It is basically about trying to work together to bring together various faiths," he said.
"We know that the Buddhist monks and Mother Teresa nuns had been looking for a centre and thought this could be used by a number of different faiths.
"So we have made an offer to buy it."
He added: "The whole of the country is living in a multi-cultural environment now. We should do anything we can to help develop better relationships between people."
Victor Spence, general secretary of the Edinburgh Interfaith Association, praised Sir Tom's involvement in the scheme.
"It's a phenomenal commitment to the inter-faith movement," he said.
"Of course, he's not just someone who has been talked into doing this, because he has been committed to inter-faith relations and co-operation for a number of years."
The building was bought in 1992 by the Italian Consulate, but has remained empty and fallen into disrepair. It went on the market last year.
It is hoped it will include a Tibetan Buddhist temple on the ground floor, with other areas run by the nuns to serve the poor and homeless.
Mr Spence co-ordinated the Dalai Lama's visit to the capital last year.
He also accompanied Sir Tom on a visit to Asia in 2004 where they met the Dalai Lama and Mother Teresa's successor Sister Nirmala.