A Buddhist temple in Russia celebrates 10th founding anniversary
Tibet.net, October 17, 2006
Elista, Kalmykia (Russia) -- Gaden Shedrup Choekhorling, the main Buddhist temple in Elista, Kalmykia, turned 10 on 6 October 2006 and the day was declared as a national holiday by the President of Kalmykia.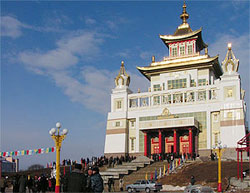 << Golden Temple, a Buddhist temple in Elista
The main Buddhist temple was opened on 5 October 1996 and consecrated by His Holiness the Dalai Lama on 30 November 2004.
Mr. Tashi, Representative of His Holiness the Dalai Lama in Russia, took part in the celebration.
Hundreds of people gathered during the celebration at the temple, including President Kirsan Ilumjhinov, Kalmyk Prime Minister, governmental officials and representatives from Russian Orthodox Church and Islam.
The celebration started with prayers recited by Buddhist monks from Gyume Gomang monastery and local Kalmyk monks.
Representative Tashi read the greeting message sent by the Department of Religion and Culture of the Central Tibetan Administration (CTA) on the occasion.
Gaden Shedrup Choedhorling Buddhist Temple awarded a medal to President Kirsan for his help and enthusiasm in reviving Buddhism in the Republic and a Certificate of Close Cooperation in reviving Buddhism in Kalmykia to Kalmyk Prime Minister and Representative Tashi.
On the same day a conference on reviving Buddhism in Kalmykia was held. It was attended by more than 70 experts and specialists. During the conference Representative Tashi delivered the opening speech. During this visit he met with the Culture Minister, Larisa Vasilieva, Telo Rinpoche, Press Secretary of President Kirsan, Tibet Support Group's Chairwoman, Antonina Kookueva and Parliament member, Baatar Aduchiev.
On 7 October 2006, a meeting of local Tibetans in Kalmykia was called on where 30 Tibetan monks and thangka painters working in Elista Buddhist temple have attended. Representative Tashi briefred them on the current situation of Tibet and the ongoing Sino-Tibetan dialogue.
A recorded speech of Kalon Tripa, Prof. Samdhong Rinpoche on CTA's present policy on Tibet was shown.