A Chaitya to be built in Birmingham Maha Vihara, UK
By Tissa Madawela, Lanka Everything, Jan 30, 2008
Birmingham, UK -- For the first time in the history of England a full scale Sri Lankan style Chaitya is to be built at the Birmingham Maha Vihara in the Midlands.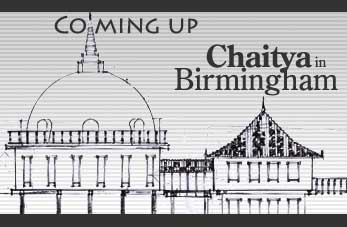 This was revealed to a visiting Rupavahini news crew who went to the Vihara to record a news item on the honorary facilitation of the OBE by Her Majesty the Queen Elizabeth the II to the chief incumbent Ven.Dr.Witharandeniye Kassapa Thera. Ven. Kassapa Thera is the President of the Midlands International Buddhist association in the U.K., and the President of the International Buddhist Relief Organisation (I.B.R.O.) attached to the United Nations and the Head of The Birmingham Maha Vihara.
A special Buddha Puja and a Dana programme was arranged by the devotees of the temple to bless Ven. Kassapa Thera. When asked about the future plans for the development of the Vihara premises, Ven.Kassapa Thera said that the present building will be totally demolished and a purpose build Vihara Building in the style of a typical Sri Lanka Buddhist Temple will be build at the premises.
This will contain a car parking facility on the ground level, class rooms, meeting and dining hall and accommodation for the monks on the first floor, and a Stupa in the style of Kaluthara Maha Stupa with a interior Shrine Room will be built with in the area of more than an acre of exciting floor space. This will be the first such Stupa to be built in England.
In 1986, Ven. Kassapa Thera was invited by the Baba Saheb Ambedkar Buddhist Association in Birmingham, United Kingdom to teach Buddhism and lay the foundation for Buddhist cultural and social activities amongst the Ambedkarite Indian Buddhist Community. In 1987, he founded the East Midlands Buddhist Association known as Leicester Buddhist Vihara. In 1996 Ven.Kassapa inaugurated the first ever Buddhist temple by the name of Sri Lankaramaya in Milan-Italy, where he is patron of the society.
Well before 2002 there was not a single Buddhist temple in Italy even though there have been over 200 hundred thousand expatriates working in this particular country. In the event of death or any other important event Ven.Kassapa had to travel regularly to Italy. Taking this in to consideration he decided to establish first ever Buddhist temple in the industrial city of Milan .
In 2002, He inaugurated the Midlands Buddhist Community Association which is promoting of Buddhist cultural activities. Academically he has been achieved to receive a degree on Buddhism from the University of Sri Lanka while he has completed his Masters in Community involvement from the University of Birmingham, in United Kingdom, as well as oriental studies from Pracheena Society of Sri Lanka.