Czech Republic first Buddhist temple opens
By Kimberly Ashton, The Prague Post, February 6, 2008
Place of worship serves north Bohemian Vietnamese society
Varnsdorf, Czech Republic -- At the edge of a town on the edge of the country, across the street from the ruins of a squat stone building, sits an average house where the spirit of a vibrant minority community lives.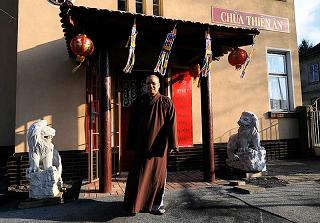 << Vietnamese monk Thich Thanh Phuc, 34, said he thinks locals come to Varnsdorf's Temple Thien An and "feel at home."
What would otherwise be an inconspicuous home is set apart by brightly colored flags, a pagoda-like structure at the doorway and a sign that reads, Chua Thien An – Temple Thien An, the country's first Buddhist temple.
"For us, it's so that the future generations know or at least have an idea where they come from," said Vu Linh Ngoc, known as Karel among Czechs and whose family organized the effort to build the temple in Varnsdorf, a small town two hours north of Prague and a stone's throw from the German border.
Vu, 28, has lived in Varnsdorf since 1994, six years after his parents moved to the Czech Republic to work in a factory.Their extended family, which includes some 60 members, began rallying the Vietnamese community across the Czech Republic four years ago to give money to create a temple, import golden Buddha statues from Asia and bring a monk, Thich Thanh Phuc, from Hanoi.
Inside the temple, Thich, a calm man with a joyful and gentle demeanor, greets visitors downstairs. He offers slippers to those wishing to enter the prayer room and leads them up a flight of steps.
With the soft smoke of incense mixing in the slightly close air, the prayer room is a space straight out of Southeast Asia.At the far end of the open room, three large golden statues of Buddha sit on an altar, flanked by two smaller similar statues.
Behind the statues' heads an electric multicolored light blinks and twirls.The altar is adorned with other gifts and decorations from Asia, and visitors place a stick of burning incense into a pot at the center of the shrine. Books of sutras, or prayers, in Vietnamese are neatly stacked nearby."I think that when [Vietnamese community members] come to the pagoda, they feel at home like they would in the homeland," Thich, 34, said in English.
Living here only since April, he is not yet able to speak Czech. Originally from Vietnam, Thich studied Buddhism in Taiwan for five years and speaks Chinese, English, some French and a little Russian, in addition to his native tongue.Although he can't communicate directly with most of the local population, he still manages to field the occasional question.
"Most of them ask me about Buddha – What is Buddha? Who is Buddha?" he said. They also want to know: "Why is a Buddhist temple located here and not in Prague or another place?"
The temple's location seems an appropriate symbol for the country's Vietnamese community — small, existing on the outskirts of mainstream Czech life, but thriving and rich.About 2,500 people of Vietnamese descent live in and around Varnsdorf, according to Vu.
And roughly 40,000 to 50,000 Vietnamese people live in the Czech Republic, he said. Considering that a good number of them are in Prague, it may seem surprising that the city itself has no Buddhist temple.
But Vu said he can guess why it doesn't."The Vietnamese community in Prague is bigger than it is here but from our experience if there are more people it's harder to come to some sort of agreement," he said. "When you are in a family it's easier." Still, plans are in the works for a temple in Prague, which could be built in four or five years, Thich said. For now, the closest temple outside of Varnsdorf is in Dresden.
Thich said he believes the Buddha chose Varnsdorf. He wants to teach the community's children to read Vietnamese and to open classes on Buddhism for both the Vietnamese and Czech communities. "Vietnamese people in Vietnam know Buddhism very deeply, but not here," he said.
"In Vietnam, there are lots of pagodas and it's very easy to learn Buddhism, but here it is very difficult." One Vietnamese family in Brno so yearned to be closer to the temple that they relocated to Varnsdorf, he said.These days, many people of Vietnamese descent — like some members of Vu's family — have been here so long they know more about Christmas and Easter than about the Buddhist New Year.
And children born here have flagging Vietnamese language skills, Thich said.Even Czechs have approached him with an interest in learning Vietnamese and in studying Buddhism. "I think it's very good and I hope more Czech people come," he said.
Many Czechs came to the opening of the temple and Vu said there have been no problems. By way of introduction, when the three large Buddha statues arrived in Varnsdorf, Thich put them on a flatbed and drove them around town. "I wanted Varnsdorf people to see the golden Buddha," he said.
The same ritual happens in Vietnam to welcome the Buddha.Outside of these happy occasions, however, Vu said there is somewhat of a sadness about the temple now and that Thich is having a difficult time adjusting. He's used to leading three busy temples in Vietnam.
Here, although the semi-monthly lunar services are popular, only a few people attend the daily prayers. But Vu takes heart. "We're not well-established so far. It's the beginning," he said. The same could have been said for the Czech Vietnamese community not too long ago.
------------------
Nada Cerná contributed to this report.
TOP