Auspicious start for Spiritual Care Centre project at Dzogchen Beara
By Jackie Keogh, The Southern Star, July 4, 2008
Beara, Ireland -- WHEN one of the project managers took the microphone and said, "Welcome to the new Spiritual Care Centre," three hundred people got to their feet and recorded the moment with loud and joyful applause.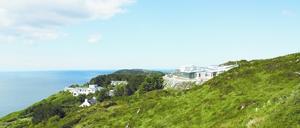 << The architects, Brian O'Brien of Solearth in Dublin, and builders, Cahalane Brothers of Dunmanway, have done a remarkable job in making this non-denominational building a place of inspiration.
It was an auspicious start for the §5 million project that will become operational next October as a place of respite — a place where people who are sick, dying or bereaved, can relax with family and friends, and find support.
The keys to the centre were formally handed over to Sogyal Rinpoche, who is the spiritual director of the Dzogchen Beara retreat centre near Castletownbere, on Friday, June 27 last.
Sogyal Rinpoche was also in West Cork for the annual ten-day retreat, which was attended by 250 students, including members of Rigpa, an international Buddhist organisation that is under his guidance.
A celebration on Saturday night allowed people to see the 1,000 sq.m. centre for the first time, and it gave them the opportunity to meet some of the people behind the project - Matt Padwick, Ally Cassidy, John Douglas, and Darci Meyers to mention but a few.
The building, which is up to nursing care standard, is likely to be regarded as a prototype for care centres throughout the world. Once the building has been fully fitted, the seven-room care centre will have a full-time nurse, with additional accommodation for carers.
Ally Cassidy said the late Harriet Cornish was the inspiration for the project. Since her death in 1993, she said more than 1,000 care-givers have attended courses at Dzogchen Beara on wisdom and compassion, caring for the dying, and living with illnesses.
Ally said it has been their experience at Dzogchen Beara that by supporting people spiritually through their dying that ordinary people can die in an atmosphere of peace and healing.
TOP