Wesak message from British Prime Minister Gordon Brown
By Janaka Alahapperuma, Asian Tribune, May 9, 2009
London, UK -- While Buddhists are getting ready to celebrate Wesak (Vesak) festival all over the world, British Prime Minister Gordon Brown has sent a very rare Wesak message to Buddhists in Britain saying that everyone could learn from the Buddhist philosophy and should reflect on the contribution the religion has made to society.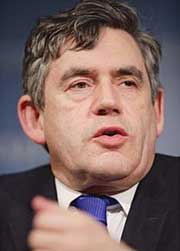 According to Downing Street information, the Prime Minister issued the message for Buddhists in Britain as they getting ready to celebrate Wesak, the festival marking the Load Buddha's 2632nd birthday.
In his message the British PM said "I wanted to take this opportunity to wish you a very happy Wesak. Britain's Buddhists will join with others around the world to reflect on the birth and enlightenment of Lord Buddha and I wanted to let you know that my thoughts are with you as you celebrate this Buddha Day".
He further said, "The Four Noble Truths and the Noble Eightfold Path have brought so much peace to so many and we can all learn from Buddhist philosophy and the practice of mindfulness."
"Today we should reflect on the great spiritual contribution that Buddhism has made to the world and congratulate Britain's Buddhists for their vibrant contribution to our national life. Please do pass on my best wishes to your family and friends".
In recent times PM Gordon Brown has used some religious quotes in his speeches. He tried to use religion to push for new global economic order in the current ecomomic downturn, the world is facing including Britain.
Last month when the world's wealthiest leaders were in London for G20 Summit, in a speech at St. Paul's Cathedral the British PM drew on religious doctrine and said "when Buddhists say hurt not others in ways that you yourself would find hurtful".
Reporters commented that it is highly unusual for British politicians to publicly draw on religious themes. Former British PM Tony Blair was famously told "We don't do God".
However Downing Street confirmed that Mr Brown does believe in God. Journalist Johann Hari said "Christianity is at the centre of Gordon Brown's world" because he has grown up in a very religious back ground as his father was a minister in the Church of Scotland.
However Wesak Festival is celebrated with great fervour and reverence by the Buddhists throughout the world. Wesak is of great significance to practicing Buddhists as it commemorates the Birth, attaining Enlightenment and Passing Away of the Lord Buddha.
This year the Prime Minister's special Wesak message has added a greater significant and a recognition to Wesak celebrations in the UK.