Home Unused Buddhadasa


Young Thais told to study Buddhism after much loved Buddhist monk
TNA News, May 26, 2006
BANGKOK, Thailand -- Caretaker Education Minister Chaturon Chaisang on Friday urged young Thai Buddhists to study and adopt the practices of one of the country's most respected religious leaders, Buddhist monk Buddhadasa Bhikkhu, who was recognised by the United Nations Educational, Scientific and Cultural Organization (UNESCO) as one of the world's 'Great Personalities'.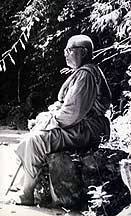 The minister spoke at the start of a three-day-event to celebrate the late monk's 100 anniversary being held at Bhuddamonthon, on the western outskirts of Bangkok.
Mr. Chaturon said the Thai public should follow the steps of the celebrated monk in studying and practicing Buddhism which would lead them to a better understanding between faiths and to save themselves from the material world.
The event, hosted by the Royal Thai Government, began Friday and will last until May 28. Her Royal Highness Princess Maha Chakri Sirindhorn, the UNESCO Goodwill Ambassador of Empowerment of Minority Children and the Preservation of their Intangible Cultural Heritage, will preside over the event
on Saturday.
The education minister said the government wanted to use this opportunity to promote Buddhist study among Thai youth. He said the late monk included new communication technology in his Buddhist teachings, and that the government has reproduced his work in prints, cassette tapes, videotapes and
CDs to distribute to the public.
Buddhadasa Bhikkhu is respected for promoting understanding between people of different faiths, his determination to rid everyday life of materialism and to teach young people to think for themselves and be able to analyse.
The revered monk is the 18th Thai citizen granted the honorary title by the world cultural organisation.
Born on May 27, 1906 as Nguam Panich in the southern district of Chaiya of Surat Thani province, he entered the monkhood at the age of 20. He was promoted to become Phra Dhammakosajarn in 1977.
During his lifetime, he wrote 140 books, more than 20 of which were translated into foreign languages such as English, French, German, Chinese and Indonesian.