'Buddhist monks acknowledge Pakistani support'
The Nation, May 23, 2017
Islamabad, Pakistan -- Pakistan is a real friend of Sri Lanka who always stood with it in conflicts, natural calamities which the entire Sri Lankan nation acknowledges.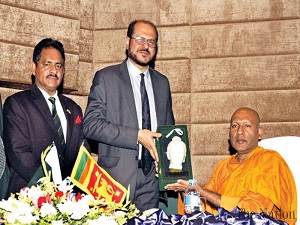 These views were expressed by the head of Sri Lankan Buddhist Monks' delegation, Professor N Gnanaratana while talking to APP during the opening ceremony of `Vesak Mela' which kicked off on Monday at a local hotel.
Referring to a famous quote, "A friend in need is a friend indeed", Professor N Gnanaratana said, "Pakistan is true friend of Sri Lanka and the common people also acknowledge this belief". He said, "Whenever there is any debate or issue at international forums, Pakistan has always raised its voice in favour of Sri Lanka".
Both the countries have many cultural similarities and have great love and respect for each other's religion, he said. To a question, Professor N Gnanaratana said, Pakistan and China are two of the countries which always extended unconditional support and love to Sri Lanka and its people.
He said from Quaid-i-Azam Muhammad Ali Jinnah to Zulfiqar Ali Bhutto, Asif Ali Zardari and especially the present leadership, all had played vibrant role in strengthening ties between Pakistan and Sri Lanka.
Talking to this news agency, the female Buddhist monks including P Dhammanande, M Seelapriga and A Summanaseeli, they said, "We are in Pakistan for the first time and very excited about our journey to the sacred places of Taxila and Takht Bai."
They said, "We are impressed with the arrangements of this festival in Pakistan, warm welcome by the officials and hospitality of Pakistani people. It is just like we are at our second home."
A delegation of around 40 Buddhist monks and visitors from Sri Lanka headed by Professor N Gnanaratana reached Pakistan on Sunday to attend `Vesak Mela' celebrations being arranged by National History and Literary Heritage (NH&LH) Division. Federal Secretary for NH&LH Division, Engineer Aamir Hasan, Joint Secretary, NH&LH Division, Syed Junaid Ikhlaq and High
Commissioner of Sri Lanka for Pakistan, Maj General (R) Jayanath, C P Lokuketagodage were present in the opening ceremony.
Addressing the opening ceremony, Engineer Aamir Hasan said Pakistan and Sri Lanka have inherited a rich cultural heritage and strong cultural relations which are deep rooted in our history."
He said that ties between Pakistan and Sri Lanka became stronger due to the peace loving religions of Islam and Buddhism. Being custodian of the buddhist heritage, the Pakistani government is equally participating and celebrating Vesak festival. The arrangements of Buddhist pilgrimage to the holy places at Taxila and Takht Bai will further strengthen deep cultural ties between the two countries.
On the occasion, High Commissioner of Sri Lanka for Pakistan, Maj General (R) Jayanath C P Lokuketagodage appreciated the efforts of Advisor to Prime Minister on NH&LH, Irfan Siddiqui, Federal Secretary, Engineer Aamir Hasan and other officials of the division for celebrating `Vesak Mela' and inviting Sri Lankan monks to Pakistan every year.
He said, Pakistan and Sri Lanka are tied in the bonds of mutual love and respect and such activities will further strengthen people-to-people relations. The Sri Lankan delegation of Buddhist monks will be taken to the historical spots of Taxila and Takht Bai by the officials of the NH&LH division where they will perform their religious rituals.
The officials of the division will also brief the monks about the historical significance of these places. The Vesak day is celebrated to commemorate events of significance to the Buddhist of all traditions: the birth, enlightenment and the passing away of Gautama Buddha.
The Vesak festival, also known as Buddha Purnima (full moon) and Buddha Day, is a holiday observed traditionally on different days in all Buddhist countries of Asia and other parts of the world.
TOP