Swat's Gandhara heritage waits to be protected
By Fazal Khaliq, The Express Tribune, July 21, 2010
SWAT, Pakistan -- If Swat Valley is a piece of paradise on earth, it is also the cradle of ancient civilisations, including Buddhist. It is the place which was described as the "valley of hanging chains" by Chinese chroniclers Huain Tsang and Fa-Hian in the fifth and sixth centuries.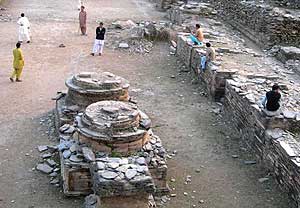 << The ancient sites of Swat suffer neglect and misuse. PHOTO: FAZAL KHALIQ/EXPRESS
While the majority of the ancient sites in Swat remain untouched, excavations carried out by Italian archaeologists have unearthed 450 ruins containing ancient stupas and statues of the Buddha.
In the era of the last Wali of Swat State Miangul Abdul Haq Jahanzeb, the ruins were protected and preserved. The Swat Museum was also built under his rule in 1959. The museum contains some of the finest collections of Gandhara art, including magnificent pieces of Buddhist sculpture.
But after the merger with Pakistan in 1969, the ruins, statues and stupas became permanent victims of neglect, jeopardising the historical and valuable heritage of the area.
One of the most famous Buddhist sculptures in the area is the Buddha of Jehanabad, second only to the Buddhas of Bamiyan in Afghanistan, many say. A symbol of Gandhara heritage, the statue is the second biggest in the region.
But after militants entrenched themselves in the area, the grand and historically important statue was badly damaged.
"Thousands of visitors from across the world used to come to see the magnificent statue of Buddha, but the militants did not spare this symbol of peace," says Fazal Rabbi Rahi, an author and journalist. Pessimistic about the future of the Buddhist heritage, Rahi says that "the valuable heritage is being ignored by the department of archaeology due to which the remains are going to vanish gradually".
Apart from militancy, the sites are also targets of illegal excavations and smuggling of artefacts.
Svastu Art and Culture Association chairman Usman Ulas Yar points out that "the frequent illegal excavation of the precious heritage of Gandhara art and its smuggling to foreign countries is an alarming issue". He blames the government for failing to check the practice and protect the heritage.
"Many more sites of historical importance, such as the Saidu Sharif stupa, have become playgrounds. Boys regularly play in the area and no one stops them."
Guards that have been deployed to protect the sites are unable to stop people from vandalising the sites.
Yet another threat to the Saidu Sharif stupa is from the local land mafia which is encroaching upon the ruins.
"Formal demarcation, installation of barbed wire, security of the sites and new excavations are some of the steps which need to be implemented on emergency basis to save the heritage," says Yar.
Meanwhile, the curator of Swat Museum, Mohammad Munir, when asked to comment on the situation, said that he is not authorised to do so.
TOP