Pakistan reaches out to Buddhists
The Bangkok Post, July 26, 2010
Islamabad, Pakistan -- Pakistan is seeking to highlight its Buddhist heritage as part of a broader effort to attract more visitors from Thailand and the Asean countries.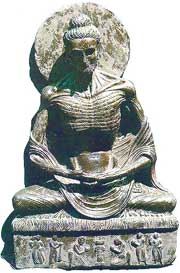 << Famous Buddha image from Taxila (Lahore Museum)
A key objective is to narrow the huge imbalance in visitor arrivals; in 2008, a total of 63,258 Pakistanis visited Thailand but only 2,618 Thais returned the favour. Diplomatic, economic and tourism officials on both sides say stronger bilateral efforts to fix the imbalance are long overdue.
In Bangkok, Pakistani ambassador Sohail Mahmood has organised visits by Thai Buddhist leaders to Pakistan's Buddhist heritage sites, such as Taxila, Takht-i-Bahi and the neighbouring city remains at Sahr-i-Bahlol. Both are among the six Unesco heritage sites in Pakistan.
In Islamabad, Thai Ambassador Marut Jitpatima says he sees huge potential for developing contacts in at least three areas of commerce: gems and jewellery, construction contracts for Pakistan's huge infrastructure needs, and imports of halal food from Thailand.
He said a Pakistani business mission would visit Bangkok from Sept 21-23 for talks with halal food producers, research and standards experts. He said there was huge potential for using Pakistan as a base for exporting Thail halal food to Middle East the Central Asian markets.
One Pakistani Buddhist playing a major role is Raja Trivdi Roy, a federal minister without portfolio in the Pakistani government. He said Buddhist religious leaders, scholars, students and pilgrims from Thailand and around the world should visit the Buddhist sites. "Not too many people know that the Lord Buddha's personal physician studied in the university that existed in Taxila in those days," he said. "It was one of the only universities in the world at the time."
Mr Roy, who traces his origins back to the Chittagong hill tracts in Bangladesh, is a frequent visitor to Bangkok where his daughter works with the UN.
Pakistani tourism authorities also say they are keen to learn from the Thai experience in dealing with the red-shirt crisis. They say they can identify with Thailand's complaints about being vilified in the international media and the misuse of the word "terrorism" - a problem Pakistan has been facing for many years. At the same time, they are awe-struck by how quickly Thailand was able to counter the negative coverage and revive visitor arrivals.
Said Pakistani Tourism Minister Secretary Hifz-ur-Rahman, "We need to rectify the negative propaganda against Pakistan. Negative travel advisories are damaging the image of the country as reported in the western media."
Ambassador Marut said the Thai embassy in Islamabad and consulate in Karachi get a total of 400 visa applications a day, with the vast majority cleared in 24 hours. The normal visa fee is about 2,000 rupees but this has been waived until March 2011 as part of Thailand's tourism recovery programme, leading to a natural increase in visa applications.
Thai Airways International and Pakistan International Airlines between them have 17 flights a week to Lahore, Islamabad and Karachi. From Thailand to Pakistan, the traffic consists mainly of UN personnel, many travelling onward to Afghanistan, businessmen and tourists. From Pakistan to Thailand, Mr Marut said, they include both upmarket and middle-class Pakistanis seeking to enjoy a holiday in Thailand, businessmen and VFR (visiting friends and relatives) traffic.
There are several hundred Pakistani students at the Asian Institute of Technology in Bangkok, and several hundred Thai Muslim students in religious studies at Pakistani universities.
Indeed, the two countries have much in common. Both are strategically located with long and porous overland borders that are almost impossible to control. Both have political systems in which the military plays a major role.
In terms of tourism, Pakistan's natural and cultural assets are equal to those of Thailand. The difference is that Thailand has been able to build on these with policy measures to facilitate access, enhance transport links, develop a strong brand image and ensure strong delivery of products and services.
Pakistan's security concerns still require some visa restrictions, although Ambassador Mahmood said every effort would be made by the embassy in Bangkok to ensure speedy delivery of visas to Buddhist religious pilgrims, tour groups, trade and exhibition delegates.
TOP