2555th Buddha Jayanti being observed today
THT Online, May 17, 2011
KATHMANDU, Nepal -- The 2555th Buddha Jayanti is being observed organising various rituals and programmes all across the country to commemorate the birth, enlightenment and death of Lord Buddha, the founder of Buddhism.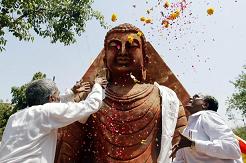 << Devotees scatter flower petals on a Buddha statue on the occasion of Buddha Purnima festival, also know as Vesak Day, in the western Indian city of Ahmedabad May 17. The festival commemorates the birth and enlightenment of Buddha and his attainment of Nirvana.
AMIT DAVE/REUTERS
Police said they expect up to 50,000 people to visit the forested Mayadevi temple, built where Buddha is believed to have been born 2,555 years ago.
Devotees chanted and offered fruits and flowers at the temple.
Buddha was born as Prince Sidhartha in Lumbini, about 240 kilometres southwest of Katmandu. Followers believe he left his family and kingdom and meditated in the jungles of Nepal and India before achieving enlightenment.
His birthday is celebrated in Nepal on the day of the first full moon in May. The same day is also observed as the anniversary of his enlightenment.
Also Tuesday, two Japanese officials who campaigned against nuclear weapons were awarded the nation's peace award at a ceremony near the temple.
Nepal President Ram Baran Yadav presented the Guatam Buddha International Peace Award to Nagasaki Mayor Tomihisa Taue and former Hiroshima Mayor Tadatoshi Akiba.
Yadav called them "an inspiration to people all over the world."
"I would like to stress just how inhumane it is to drop atomic bombs that release vast amounts of radiation, and the fact we really do not need these sorts of weapons," Taue said in an acceptance speech.
TOP