US$ 3b Buddhist Centre for Lumbini
Sunday Observer, June 19, 2011
Kathmandu, Nepal -- China is providing funds to Nepal to build a US$3 billion Buddhist Centre to attract millions of pilgrims and spiritual tourists to the birthplace of the Buddha.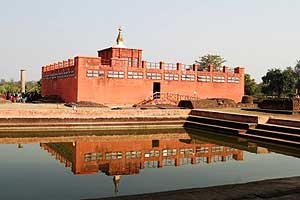 Lumbini is a UNESCO World Heritage Site that attracts half-a- million pilgrims every year from China, India, Japan, Sri Lanka and Thailand to its ponds, gardens and temples. Planners hope to build an airport, hotels, convention centres, highways, temples and a Buddhist university at the site on Nepal's Western border with India, where Buddha was born about 2,600 years ago.
The scheme is supported by a Chinese government-backed foundation.
It also has the support of Steven Clark Rockefeller, the heir to the Rockefeller dynasty. According to Nepali officials devout Buddhists spend more time at the other three main pilgrimage sites in India because Lumbini does not have the infrastructure for longer stays.
Saranath, in India's Uttar Pradesh, where Buddha first taught the Dhamma, Bodh Gaya in Bihar, where he attained Enlightenment under the Sacred Bodhi tree and Kushinagar where he reached Parinibbana are all drawing increasing numbers of high-spending tourists, and Nepal's government wants to increase its share of this income.
China and Nepal signed an agreement earlier this year to develop the site, and the Beijing-based Asia Pacific Exchange and Co-operation Foundation has launched an ambitious campaign to raise the three billion US dollars required for the site to be transformed into the world's leading Buddhist pilgrimage site.
Nepali Government officials have made a number of fund-raising trips to Singapore and Malaysia, and hope the project will create new jobs in Lumbini, a poor area.
TOP