China claims India's Buddhist legacy
Rediff.com, Aug 7, 2011
Kathmandu, Nepal -- By Marxist-Leninist principles, this must be a masterstroke — getting left-wing Maoists and right-wing monarchists together in a bandwagon to revive the great legacy of Buddhism in Nepal. This is Chinese diplomatic ingenuity at its best and India has no answer.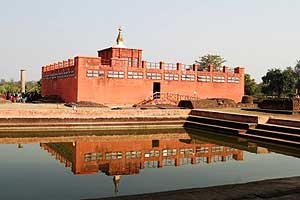 The 3-billion dollar Lumbini Development Project under the aegis of the Chinese government-backed Asia Pacific Exchange and cooperation Foundation, which Maoist leader Prachanda and former Nepali crown prince Prakash Shah will be jointly heading as the co-chairmen, is gaining traction.
Shah got back to Kathmandu from exile in Singapore on Sunday on the special assignment from Beijing to enrich Sino-Nepalese ties. Look at the irony of it all — an incorrigible Marxist revolutionary and a feudal Sisodia rajput with Indian blood streaming down his veins being brought together on a platform dedicated to promote China's bid to claim the legacy of Buddhism.
In Nepal's context, 3 billion dollars is a lot of money and the economic dimension of the Chinese project 170 kms southwest of Kathmandu is of vital importance. Aside the huge infrastructure (international airport, hotel chains, convention centres, Buddhist temples, Buddhist university, highways, railway lines), the spin-off is going to be massive. Just think of it - Japanese, Thais, Sri Lankans and Chinese pilgrims descending on Lumbini in their hundreds of thousands. A Chinese team of officials arrived in Nepal today to draw up the details of the project work, which is expected to be spread over 9 years.
I wonder what Prachanda and Shah could be doing with their spare time. A bit of politiking? They make strange bedfellows. To be sure, China has cast its net wide in Nepal. Why such political ingenuity never occurs to the Indian mind puzzles me. One reason could be the pre-eminent role of the 'deep state' in crafting our Nepal policy, which stymies creativity. I salute China's diplomacy - smart enough to know where the mouth is for putting the money. Nepal is already alert about Chinese sensitivities. Put plainly, Beijing will do what it takes to plug the clandestine attempts by the Tibetan refugees based in Nepal and India to infiltrate China and indulge in subversive activities.
Instead of complicating the ties with India or the US, Beijing sees that building up Nepal as a citadel of cooperation is a practical way of achieving its objective. Beijing is taking the same approach to Pakistan with regard to the activities by the Xinjiang militants operating from Pakistani soil. What is the point in our moaning about China's shadow over Nepal? We don't comprehend it is no more 'shadow'; it is hard substance. China is purposive, whereas we are wasting time 'flexing muscles' in a Himalayan void.
No doubt, it is soon going to be Nalanda versus Lumbini. In principle, India has all the advantage with Nobel Laureate Amartya Sen lending his fame. But I think Lumbini is going to steal a march and run away with the trophy. Worse still, it could turn out to be a replay of Beijing Olympics vs. 2010 Commonwealth Games. We should at least avoid a CAG report on Nalanda.
TOP