"I wanted to murder whoever did this to my daughter"
by DEWAN RAI, Nepal Times, Jul 22, 2011
Kathmandu, Nepal -- Krishna Tamang had taken his cattle out to graze on a meadow near his farm in Bhojpur in eastern Nepal. Dark clouds were gathering over the mountains beyond, and he had a sense of foreboding. At 2 pm, a neighbour ran up to tell him his daughter had fallen sick in Chainpur. Krishna borrowed some money and headed off with his brother.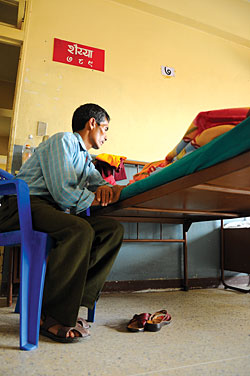 << BY HER SIDE: Krishna Tamang tends to his daughter at the Teaching Hospital in Kathmandu. She hasn't spoken to anyone since the rape a month ago.
Krishna says he felt like he had fallen off a cliff when police in Chainpur told him what had happened to his daughter. A 21-year-old apprentice at the Laligurans Rimthen Chholing Boudha Gumba in Dilkharka, the nun had been raped repeatedly by the driver and crew of a bus she was travelling in. They also stole the Rs 130,000 she was carrying that her sister Kabita Tamang, who lives in India, had sent home for constructing a new house in the village.
She was travelling from Khandbari to Dharan on 24 June, but a flooded river on the way forced the bus to make an unscheduled night stop. All the lodges in the village were full because of stranded passengers.
Although some passengers offered to share their room, the crew convinced her to spend the night in the bus. At 11pm, Drona Rai, sleeping in a bus parked nearby heard a scream and went to help. He was beaten up by the rapists.
The next morning there was commotion as word spread about what had happened. Members of the Limbuwan Volunteers were alerted, they caught the culprits in a place called Kharang and handed them over to Chainpur police.
By the time Krishna reached Chainpur the next day his daughter had been taken by relatives to Paramount Hospital in Siliguri in India after initial treatment at a local health centre. It took Krishna two more days to reach Siliguri and be by his daughter's side.
"She was in a terrible state," Krishna recalls, "she was still unconscious in the ICU. I wanted to murder whoever did this to my daughter."
When her family couldn't pay and the bills had exceeded INR 200,000, the Siliguri hospital evicted her. The family flew her back to Kathmandu on 15 July, but the Teaching Hospital refused to admit her despite request from members of National Women's Commission.
"We were told that the government hospital does not take this kind of case," recalls the nun's uncle, Surya Tamang. "We returned got to a relative's house at 9pm after waiting at the hospital all day."
After much lobbying with politicians, Teaching Hospital finally took the nun in the next day. Doctors told us she is suffering from extreme post-traumatic stress disorder. "She needs psychological and social support at this time more than medical treatment," Vidya Dev Sharma of the hospital's psychiatry wing, said.
The nun's sister, Kabita, watches as she tosses and turns in bed, moaning. Her bed is near the door of a large ward full of patients. She covers her face with her blanket every time someone walks past. Kabita says her sister hasn't spoken a word to her family, or to the doctors. She says: "Look at what those demons did to her, a young woman who has devoted her life to god."
The family is now worried about her future. Although there were initial reports that the nunnery where she studied in Pharping had excommunicated her, the Nepal Buddhist Federation (NBF) has denied this. "I was misquoted in the Indian media, she was never expelled, there is no provision in Buddhism for excommunication," said the NBF's Norbu Sherpa.
The Nepal Tamang Lama Ghedung, an organisation of Tamang Lamas, has said it will reinstate the nun in the local Gumba in Sankhuwasabha once she gets well. Palden Lama of the Ghedung said: "Her celibacy was broken against her will, Buddhist philosophy is about protecting, rescuing and rehabilitating the victim instead of adding to the pain."
The Sankhuwasabha District Court has sent all five accused to jail for further investigation. In Khandbari, government lawyer Krishna Bhandari says the court has recommended compensation and medical expenses for the victim. "The court will give its verdict once the legal procedures are complete. All we need now is statement of the victim," Bhandari told Nepali Times.
Two members of the bus crew, bus driver Raj Limbu and conductor Bhuwan Gurung have already confessed to the crime, while the rest have pleaded not guilty. The maximum punishment is a jail term for up to 10 years, but since there is also a robbery charge, they could get an additional six year sentence.
However, the bus syndicates in Sankhuwasabha are lobbying with the local administration to have the accused released. They brought transportation to a halt in four districts in eastern Nepal this week to put pressure on the administration.
TOP