'Lumbini Year fails to connect Buddhist circuit'
My Republica, Dec 11, 2012
BUTWAL, Nepal -- The Visit Lumbini Year ( VLY-2012) has failed to connect well known Buddhist Circuits around Lumbini though the government had announced 2012 as a national campaign with an aim to attracting a million tourists and collecting the funds for the development of Lumbini.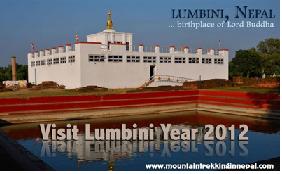 Around a dozen of Buddhist circuits in Kapilbastu, Rupandehi, and Nawalparasi districts related to Buddha´s life have fallen under shadow when the Lumbini Development Trust could not bring any program for the dissemination and development of the places. The places see the zero-effect of the VLY-2012 due to lack of promotional activities, inadequate infrastructure, and the government's apathy.
The VLY could not even touch the Tilaurakot of Kapilbastu, where Gautam Buddha was born and spent his childhood days though various activities for the promotion of the Lumbini area after the declaration of VLY.
Lord Buddha spent his first 29 springs in Tilaurakot. It is fully covered with big trees and tall grass that the tourists reach there could not even have guest house and books that provide information about the Buddhist circuits here in detail, said a local Umesh Bhandari.
Pilgrims arrive here from all over the world would equally express despair when they see chaos as they get excitement from being in the birth place of the lord Buddha.
The important places including Kudan, Gotihawa, Nigalikot and Bodhishattwa of 77,000 Shakyas could not take as per their expectation. It is reported that as many as 100 such places of archeological importance have been shadowed not only from government´s indifference they also faces crisis for their existence due to human encroachment.
Similarly, Gotihawa and Niglihawa where the then Indian emperor, Ashok, erected pillars have turned into a pastureland.
Budget was not allocated for the implementation of VLY from the center and district level programmes were not set up for the promotion of the Buddhists centers, said Madhav Acharya, Chief of Branch Office of the Lumbini Development Trust.
However, an entry to border of Nepal-India, Chakarchauraha, has been built at the initiative of District Development Committee, he added.
Besides these, Devdaha, Ramgram, Ashok Pillar among others have been ignored although though the country has been marking the VLY.
TOP