International Buddhist conference begins in Nepal
Press Trust of India, May 19, 2016
Kathmandu, Nepal -- A two-day international Buddhist conference to mark the 2,560th birth anniversary of Lord Buddha began here today with Prime Minister K P Sharma Oli, advocating Buddhism as a means to avoid extremism in all forms.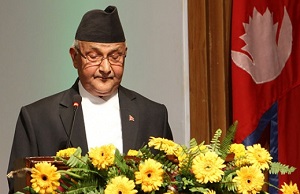 << Prime Minister KP Sharma Oli inaugurated the conference in which as many as 28 countries are participating
Over 1,200 delegates and observers from 28 countries around the world will attend the conference from May 19-20, themed "Lumbini, Nepal: the birth place of Lord Buddha and the fountain of Buddhism and world peace".
Inaugurating the conference today, Oli said, the concept of middle path is the core teaching of Lord Buddha which is equally relevant today as it was during the era of Buddha more than twenty five hundred years ago.
"Buddha teaches us to adopt middle path in life by avoiding extremism in all forms," he said.
"The four noble truths and eight fold path propounded by Buddha is a way for life that helps attain ultimate happiness in life," he added.
"Harmony, tolerance and peace are the major components of the teachings of Budha. Buddha is not only the light of Asia, but also the light of the world," the Prime minister said.
"India's emperor Ashoka and great Indian scholar BR Ambedakar have played great role in spreading the message of Lord Buddha in various countries in the world," Rahul Bodhi Mahathero, a Buddhist monk from India who attended the conference said.
The Than manuscript of China has mentioned that Lumbini is the birth place of Lord Buddha, said Yin Shun, vice-president of Buddhist Association of China.
The main objective of organising the event is to highlight Lumbini as birth place of Lord Buddha and the fountain of Buddhism, in the international arena, to establish Lumbini as the centre for interfaith and peace dialogue as well as developing Nepal as the fountain for world peace.
During the conference, around two dozen Buddhist scholars and renowned monks will be presenting working papers on various topics such as, "Good governance and Buddhism," Buddhism its beginning and continuity," and "Three fold body of Buddha."
A special programme will be held on the 2,560th anniversary of Lord Buddha in Lumbini coinciding with Buddha Jayanti on Saturday.
President Bidya Devi Bhandari will be the chief guest on the occasion. Around 10,000 people are expected to arrive in Lumbini to mark the occasion.
During the event, the president will announce the winner of 'Lord Buddha Peace Prize' worth USD 50,000.
Delegates from various countries including from Bhutan, Thailand, Korea, Sri Lanka and Malaysia will attend the conference.
The conference will come up with a declaration based on presentations from national and international Buddhist scholars at Lumbini on Saturday.
TOP