Buddhist life which evolves in Nepal
Spotlight, Jan 3, 2007
Kathmandu, Nepal -- Being a birth place of Shakyamuni Buddha , Nepal is a land full of stories, legends and traditions of Buddhism. From high Himalayan mountains to low land in south of Nepal , Buddhism has made great impacts on all areas.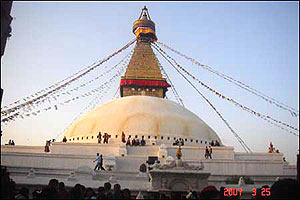 Despite being a society with Hindu domination, the country has never seen any conflict between the various religious sects, particularly Hindus and Buddhists. In Kathmandu valley, people are so tolerant that they build Buddhist and Hindu temple side by side and live together harmoniously.
It is similar in mountain region. In the high Himalayas , the residents are predominantly followers of Mahayana Buddhism but they too respect the sentiments of the people of south who are mostly Hindus. Like Buddhists, Hindus too regard glacier lakes and mountains as the abodes of God of creation and heaven of human life.
This is the reason why people respect and share the common feelings about their religions. Many books have already been published on the important aspects of religious life particularly on those people who have been practicing Buddhism. This is a first book, which ties to explore how religion and culture guide the population with Buddhist faith.
"Buddhism, the second-largest religion in Nepal , is arguably not a religion at all but a philosophy, a way of life. At least, that is how it started out. However, over the centuries those who followed the no-nonsense teachings of the man who was born as Prince Gautama Siddartha of the Sakyas began to codify," writes Voivik. "For millennia, people throughout the world have told stories to entertain, to inform and also try to make sense of the universe around them. Every religion has developed its own set of stories, myth, legends, parable – accompanied by a system of rituals, symbols and various traditions."
Having lived for a long period in Nepal , studying and working here, author Hoivik seems to have learnt ethos and values of this society. Through this book she tries to write how distinguishing the stories and other legends in Buddhist countries like Thailand , Korea , India and Nepal are. According to Hoivik, there are wide variations of the stories of other countries. Also within the same country there will be variations, as exemplified by the many syncretic Hindu-Buddhist Newari legends of the Kathmandu valley as compared with the Tibetan Budhist tales of the High Himalayas.
"This miscellany focuses on one aspect of the vast array of stories, legends, rituals, traditions, and symbols that have developed within the world religion known as Buddhism, namely, those dealing with Nepal . After all, it was in Lumbini, in southern Nepal , that the historical Lord Buddha was born over 2,500 years ago. This volume is meant as a general introduction for all those visitors to Nepal who wish to learn more about its rich and living Buddhist heritage," writes author Hoivik
All the stories and legends collected in the book are very interesting and they give how important the religious and culture aspects are in the life of common people and how these legends determine their life.
TOP