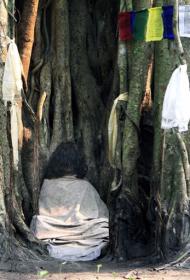 << Ram Bahadur Bomjam has blesses thousands of devotees
Known as the "Buddha Boy," Ram Bahadur Bomjam, 18, became famous in 2005 after supporters said he could meditate motionless for months without water, food or sleep.
"Bomjam went back into the jungle late Friday and all the devotees have left," police officer Gobinda Kushwaha told AFP from Neejgad, a town in Bara District, 60 kilometres (37.5 miles) south of Kathmandu.
The "Buddha Boy" reappeared earlier this month after supporters said in March 2007 that he was going to meditate for three years in an underground bunker, although he was spotted on two occasions.
For the last 10 days, he has been blessing thousands of devotees who came daily to the site in dense jungle close to Neejgad.
The president of the Nepal Buddhist Council said claims by his supporters tha he was a reincarnation of Siddartha Gautama, the founder of Buddhism, were not credible.
"We do not believe he is Buddha. He does not have Buddha's qualities," said Mahiswor Raj Bajracharya, president of the Nepal Buddhist Council, a centre for Buddhist study and research in Kathmandu.
"He may have achieved great heights in meditation, but that alone does not make him a Buddha. A Buddha needs life experience, a young man who has not seen the world at all cannot be a Buddha," said Bajracharya.
Despite being officially secular under the new Maoist government, Nepal -- where around 80 per cent of people are Hindu and 11 per cent are Buddhist -- remains a deeply spiritual place.
"This is a country where people worship idols and stones, and everyone educated or not believes in the supernatural," the Buddhist scholar said.
Some 7,000 people gathered Friday to hear the youth speak.
"Materialism has brought forth fear, worry and disputes and has created war in this country. One should follow religion and philosophy for inner happiness," Bomjam told the crowds in a 15-minute address.
People joined a six-kilometre (3.75-mile) queue to be blessed, a wait that 43-year-old farmer Singha Bahadur Tamang said was worthwhile.
"This is a miracle and he is the reincarnation of Lord Buddha himself," said Tamang, who traveled eight hours by bus to hear Bomjam speak.
"I've been here for the last 10 days and the feeling is amazing. I really feel at peace here," he said.
The head of the committee that organises events around Bomjam insists he survives without food and water.
"We have never seen him eat or drink and we believe he's a god in human form," said Bed Bahadur Thing, president of the Buddha Jungle Meditation Conservation and Prosperity Committee.
At the height of Bomjam's fame, a French TV crew filmed the youth eating fruit and an AFP correspondent caught him napping.
On Friday, visitors to the jungle site put money into collection boxes, though Thing declined to say how much had been collected.
"Many people say we're just doing this for the money, but we have expenses for volunteers, food, security and maintenance," he said.
"After he has gone back into the jungle, we will make our accounts public."