Fasting Buddha at Lahore Museum attracts Japanese aid
by Shoaib Ahmed, Daily Times, Nov 12, 2004
LAHORE, Pakistan -- Nobuaki Tanaka, the Japanese ambassador to Pakistan has agreed during a visit to the Lahore Museum in October, to provide technical know-how to the museum, museum sources told the Daily Times on Thursday.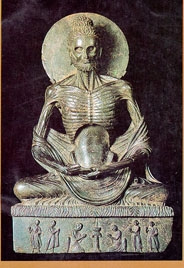 Sources said that Japan is keenly interested in the museum as a great number of Japanese visit it to see the Buddha collection, particularly the statues of Buddha.
Sources said that Gulzar Mashhadi, the director of the museum, requested Mr Tanaka to provide technical know-how, pointing out that the lighting at Gandhara art gallery was not qualitative. Mr Mashhadi said that a statue of Buddha?s had open eyes but because of the insufficient light they could not be clearly seen.
Sources said that Mr Tanaka had agreed to provide the technical know-how and a new lighting system for the museum, especially to bring the Gandhara art gallery into focus. Sources added that Mr Mashhadi is expected to forward the proposal for technical support to the museum?s next Board of Governors meeting.
Sources said that the museum management is also working to change the obsolete style of display in the museum and would try to introduce a new and updated display worthy of international standards.
Lahore Museum, situated near Tollinton Market, is the oldest museum in the country and was established in 1864 under the name ?Industrial Art Museum of the Punjab?. The Gandhara gallery showcases Mahayana Buddhist religious sculptures. Mahayana Buddhism originated and flourished during the first five centuries of the Christian era.
The showcases present the life story of Buddha in frieze panels and statues from his pervious incarnations, his birth, youth, enlightenment preaching of the law and death. Gandhara art is important for introducing the image of Buddha and the iconography developed has influenced Buddhist religious art everywhere.
Besides this, the General gallery will be divided into two sections and one section will be dedicated as the Sikh Gallery. This gallery is being established to promote religious tourism. Millions of Sikhs visit Pakistan to see sacred places in Nankana Sahib and other areas every year.
A gallery dedicated to the Sikh religion would gratify the Skih community. The museum has an antique Granth Sahib painting, a priceless replica of the Golden Temple and a number of paintings and other artefacts related to Sikhs.