Bhutan: 'Reds' all for 'green' cremation
by Ugyen Penjore, Kuensel Online, Sept 7, 2011
Dratsang (scholars) says 108 mani prayer flags not mandatory
Timphu, Bhutan -- In what could be called a blessing from the monastery to policy makers, environmentalists and conservationists, who are caught up in a conservation dilemma, members of the dratsang yesterday proposed cremations without using firewood.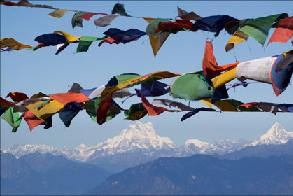 Although the proposal was made as a part of a two-day religion and conservation workshop in Thimphu, participating khenpos, principals and lam netens from across the country supported the idea and said it is high time Bhutan start cremating bodies using anything but firewood. This, a lopen (master) from the Tango Buddhist College, Karma, said would save thousands of trees from being felled every year.
Tsirang lam neten, Wangdi estimates that almost a half truckload of firewood is needed to burn a body, which is about 100 truckloads of firewood, given that the capital's crematorium alone cremates about 300 bodies. "This is a modest estimation, sometimes it crosses 400. There is no single day without cremations around the country."
An electric incinerator was established at the Thimphu crematorium more than a decade ago, but the government gave up because the modern facility, touted as a cheaper, environment-friendly and time-saving alternative to the traditional funeral process, failed. It also generates a lot of debate with the older generation skeptical about its appropriateness in a Bhutanese buddhist tradition. However, participants at the workshop said that beliefs shouldn't stop restarting it, given the pressure on the forest.
"It will be difficult in the beginning," said Lopon Karma. "But if everybody agrees to it, incinerating bodies would become a norm." For this, another lopon said, "an influential people or a highly respected lopon or lama should set the example."
A common argument when the modern incinerator was initiated in 1998 was that the cremation would not see through all the rituals, as it took only a few minutes to burn the body. "This is wrong," said lam neten Wangdi. "There is technology to control the speed of the fire or heat, and the dead will receive all the necessary rituals."
The incinerator at the Thimphu couldn't gain the people's trust because there were instances of body remaining half burnt and it failed totally, according to the lopons. They compare it to the waiver of gyep ( cash offerings). "First people complained saying that it was restricting filial duties, but now everybody, especially the poor, appreciates the initiative," said a lopon from Trashigang.
Prayer flags
There is more good news for conservationists as the participants suggested alternatives for prayer flags, especially the mani flags that are erected after someone dies in the family. This comes at a time when people are not keen on alternatives like bamboo and steel posts encouraged by the forestry department because of believes associated with prayer flags.
It is believed that, while there should be at least 108 mani flags, freshly cut trees are preferred to old poles "to not compromise benefits". Lam Wangdi said that was not always true and there were several ways to benefit the dead. "You can do it by hosting bazaguru dungdrup or even building chorten," he said, adding that metal posts have more advantages as they are durable and can hold many flags. The lam neten had already initiated metal prayer flags in his dratsang in Tsirang.
Our role now would be to convince people that all the myths surrounding the mani flags are not true. "Even if they are, we won't be compromising by resorting to other activities," he said. "Strict conservation rules and education from the dratsang can go hand in hand to save our trees." Others said the educated and the influential should start setting an example, instead of showing their wealth and power by erecting 300 to 400 mani flags.
Demand for prayer flag posts exerts the greatest pressure on young trees. For instance, between June 2007 to 2008, Bhutan felled 60,178 trees, or about 165 trees every day, to meet the demand for poles, of which demand for flag posts is the highest (officials couldn't be contacted for latest data).
Meanwhile, participants said that they had not only a major role, but an influential role to play in conserving the environment. The workshop organised by The Tributary Fund, a non profit organisation in the USA that assists religious, scientific and local leaders to collaborate and manage issues of sustainable community development and wildlife habitat protection, saw the khenpos, principals and lam netens participate and generate ideas at all levels.
The participants discussed how they can mentor communities in conservation, suggested strategies to save the environment through various means, and also how to be an agent of change while practicing dharma. One even suggested having a dratsang TV channel, where both religious and environment programmes could be aired.
"I've conducted workshops around the world, but this is one of the most successful," said director of communication of Alliance Religion and Conservation, Victoria Finlay. She attributed this to the quick connections the participants could make because of a religion that includes saving the environment. "I've learnt a lot from them," said Victoria Finlay, whose organisation helped raise funds for the workshop.
TOP