Bhutan counts the cost of trying to buy happiness
By Belinda Goldsmith, Reuters, May 18, 2012
THIMPHU, Bhutan -- They say you can't buy happiness - and it's something Bhutan is finding out the hard way.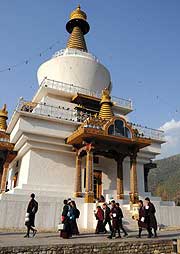 The tiny, mostly-Buddhist Himalayan kingdom won a world voice for adopting a happiness index to measure its economy. But its prime minister says it promptly forgot its own lesson, and let a sudden rush of prosperity go to its head.
"Wealth creates increased desire," Prime Minister Jigmi Thinley told Reuters in an interview in the capital Thimphu, surrounded by tree covered mountains dotted with prayer flags.
"There are families with four or five cars. There are luxury vehicles being imported that can hardly drive on our roads and are made for far better roads than we have here."
A country that was closed to foreigners until 1974 and only recently opened up to the forces of globalisation lacked the tools to cope with new-found economic growth and the wealth it brought.
Debt-fuelled consumerism that far outpaced economic output has now led, inevitably, to a rude awakening.
The government has cut expenditure and is considering raising taxes on imported vehicles. The central bank, the Royal Monetary Authority of Bhutan, has rationed the main trading currency, the Indian rupee, squeezing private businesses.
Youth unemployment is over 9 percent and people are drifting away from the countryside, and traditional values, to the towns.
Worst of all, Bhutan's most recent Gross National Happiness GNH.L index, in 2010, found only 41 percent qualified as "happy".
BECOMING MORE MATERIALIST
"We have been moving away from GNH values and, like many countries, becoming more materialist," said Thinley.
"When such tendencies come at a cost to the economy, like we are suffering now, the government has to take difficult measures," he said. "We have to accept that the rupee is not our currency."
Thinley's Druk Phuensum Tshogpa government won power in Bhutan's first democratic election in 2008 and heads to the polls again next year.
He said the crisis highlighted the need to focus once more on the happiness index, which uses nine criteria: psychological well-being, ecology, health, education, culture, living standards, use of time, community vitality and good governance.
"Our economic problems are the result of being opened to the world and being part of the globalisation process."
Despite its boom, Bhutan remains one of the world's least developed and poorest nations, where 70 percent of 700,000 people live on subsistence farming. But economic growth led to a surge in imports of industrial and consumer goods from neighbouring India.
Almost one in eight of the 65,000 vehicles on its roads were imported last year.
Thinley said the cost of importing fuel to keep these cars on the roads wiped out the earnings that Bhutan made from its major industry, selling hydro-electric power to India.
"The revenue we earn from exporting clean energy is the same as the cost for the dirty fuel that we import from India," he said, sipping Bhutan's traditional butter-and-salt tea in a timber-clad room dominated by portraits of Bhutan's five kings.
HAPPINESS OR DEVELOPMENT?
But it seems to be getting harder to convince people to put a holistic sense of happiness ahead of raw economic development.
In parliament on Thursday the government forecast economic growth of 7-8 percent next year and said it hoped to reach its target of cutting poverty to 15 percent from 23 percent. The electricity grid covers 77 percent of the country.
"It's sad but true that the roads we are building to take services to villages are the roads by which villagers leave and some set up shanty towns around the cities," said Thinley, dressed in Bhutan's traditional knee-length, belted robe.
He said the government must prioritise policies that promoted the appreciation of rural life and stop the drift into urban areas, which was decimating villages and making the country more dependent on imported produce.
"In many ways, life in the rural setting is better and the possibility to find happiness is far greater than living in a city where you don't even know your next-door-neighbour and violence is rising," he said.
"We need to create a conscious desire in our people to continue to live in rural areas or move back from urban areas. Rather than live in a stuffy apartment, go back to the farm!"
It may be a hard message to sell to the young people heading for the towns, abandoning traditional dress for jeans, and looking for civil service jobs rather than manual work.
"People across Bhutan need to realise that we need to be more independent," he said, "(relying) on our own farming and resources."
TOP