International conference on Vajrayana Buddhism begins
Kuensel Online, July 1, 2016
The three-day conference is open to the public

Timphu, Bhutan -- More than 300 international participants are expected to participate in a three-day conference on continuity and change within both historical and contemporary expressions of Vajrayana Buddhism in Thimphu from that ends on July 3.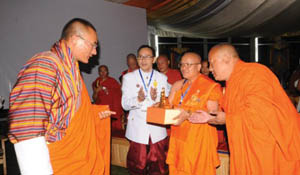 << Samdach Preah Maha Ariyavamsa, Sao Chanthol, of Cambodia presents a statue of the Buddha to Prime Minister Tshering Tobgay during the opening of the International Conference on Tradition and Innovation in Vajrayana Buddhism in Thimphu.
The conference, organised by the Central Monastic Body and the Centre for Bhutan Studies & GNH Research (CBS & GNHR), with inputs from Ian Baker, a Buddhist scholar and board member of the International Society for Bhutan Studies (ISBS), will be held at the Royal Institute of Tourism and Hospitality (RITH).
Speakers include world-renowned spiritual leaders as well as prominent scholars and neuroscientists researching the effects of yogic and contemplative practices on the human brain and wellbeing.
During the course of the three days, presentations will range from insightful historical perspectives by both lineage holders and academics to visionary accounts of Vajrayana Buddhism's creative adaptation to the challenges and opportunities of the 21st century. The programme will include illustrated talks, films, and live performances.
During the course of the conference, 65 speakers from seventeen different countries will share their insights and experiences, and engage in discussion with both international and domestic participants. The presentations will address Vajrayana's dialogue with 21st century science, medicine, and ethics as well as its current and historical interface with the visual and performing arts and contributions to comprehensive human flourishing.
Presentations will emphasise Vajrayana's long history of creative adaptation within wider processes of continuity and change and the ongoing globalisation of Himalayan Buddhist culture. The conference will specifically address the role of women within Vajrayana Buddhism as well as the form and function of body-mind yogic practices within Vajrayana that have traditionally been considered secret. As a whole, the conference will seek to articulate the ways in which Vajrayana Buddhist methods of individual and collective transformation can be meaningfully adapted to the emerging technologies, priorities, and social concerns of the contemporary world.
Academic conferences typically provide opportunities for scholars to share their current research with university colleagues. The inaugural 'Tradition and Innovation in Vajrayana Buddhism' conference differs in that it offers a chance for leading intellectuals and practitioners to discuss their perspectives with a wider international audience and, specifically, to share their knowledge with representatives of Vajrayana culture in the last remaining Himalayan Buddhist Kingdom. The conference format will thus promote an engaging exchange of ideas towards a deeper appreciation of Vajrayana's evolving role in the 21st century global society.
The conference is structured on the interconnected categories of View, Practice, and Application and explores emerging models of Vajrayana within traditional Bhutanese culture as well as internationally in the context of Tantric Buddhism's deep history of creative adaptation to changing social and cultural contexts. The conference is open to the general public and will promote an empowering exchange of ideas and perspectives for enriching Vajrayana Buddhist culture and its global trajectories. The conference will further illuminate processes of human flourishing intrinsic to Bhutan's policy of Gross National Happiness (GNH), a philosophy based on the premise that true development takes place when material, emotional, spiritual, cultural, and environmental wellbeing are cultivated in unison and mutually reinforcing.
Beyond the heightened, and sometimes challenging, exchange of ideas and perspectives, conference participants will also experience firsthand the living spirit of Vajrayana Buddhism inherent in Bhutan's landscape, temples, arts, and daily life. Even the food offered during the conference will reflect Vajrayana Buddhism's living presence in Bhutan, in the form of native red rice, organic vegetables, and healing herbs.
At the opening of the international conference yesterday, Prime Minister Tshering Tobgay said: "This conference is not only about what we Bhutanese can share with all of you who have come from across the world to experience Vajrayana Buddhism in its living context. We ourselves will benefit greatly by learning more about the forms that Vajrayana Buddhism has adopted in Mongolia, India, Nepal, Myannmar, Russia, Australia, Brazil, Japan, China, Europe, and the United States."
CBS & GNHR President Dasho Karma Ura said: "This conference is not only about sharing ideas, but about discovering something at the core of our being that we all hold in common. This is the heart of the Vajrayana Buddhist vision, and the conference will help international guests and Bhutanese alike to apply their innate qualities of compassion, wisdom, and creativity in all aspects of their lives."
TOP