Respected Buddhist teacher under house arrest in Bhutan
The Buddhist Channel, Feb 3, 2007
Timphu, Bhutan -- A highly respected Buddhist teacher, HH Shadrung Jigme Ngawang Namgyal Rinpoche (Pema Namgyel, H.H. the 10Th Shabdrung Rimpoche) has been placed under house arrest by the Royal Bhutan government. No reasons were given for his detainment.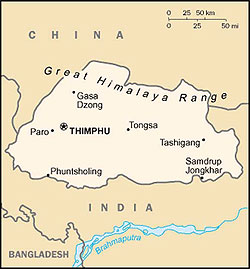 As of press time, Pema Namgyel remains in custody on the order of Home Ministry of Bhutan via the Incarnation Commitee, Bhutan Ministry of Culture. According to inside sources within Bhutan, Pema Namgyel has been barred from leaving Bhutan and has also been denied legal recourse.
A furore is being created by Pema Namgyel's students based in Bhutan and India. They have demanded the immediate and unconditional release of their respected teacher.
According to an official statement released by students from the Druk Ngawang Thubten Choling (Buddhist Institute for Higher studies and research), Pema Namgyel, his parents Mr. Tashi Dawa and Mrs. Weshi Wangmo and his oracle, the Choechong Tseurama were invited by HM The King of Bhutan and the Reincarnation Committee for a purported meeting in Timphu.
Pema Namgyel left Druk Ngawang Thubten Choling Monastery in Bodh Gaya, India with his parents, Mr. Tashi Dawa and Mrs. Weshi Wangmo, and the oracle on October 2005. However, since their arrival in Timphu they have been kept under continued government surveillance, and have since been denied permission to leave the Bhutan. They are also denied the rights to have visitors.
Pema Namgyel's students have condemmed the detention as "house arrest without justification of the law."
The student's statement also claimed that government had put the oracle Choechong Tseurama into police custody. The statement further states that Choechong Tseurama is currently held in a Timphu jail, and that his imprisonment violated international law.
The student body have made an urgent appeal to International Human Rights groups to initiate pressure on the government of Bhutan to immediately release Pema Namgyel. They also called for a complete enquiry into the monk's whereabout, the status of his health and reasons for his detention (as well as of his family and the oracle).
The students believe that the issue requires urgent action as they are concerned for the safety of the young monk's life. Any one or groups who wish to take up action to free Pema Namgyel may contact the following:
1) Donald P.Ray Jr.
(student of The 10th Shabdrung Rinpoche Pema Namgyal )
Fax:1-801-346-4790
Phone :974-1-980-327-4387
2) Druk Ngawang Thubten Choling Monastery contact information:
Contact: Khenpo Tsokyi Dorjii, Acting head of the Monastery
Druk Ngawang Thubten Choling
(Buddhist Institute for Higher studies and research)
Post Box:22 Bhagwanpur,Bodhgaya,
Dist.Gaya-824231,Bihar (India)
Tel:91-631-2200653, 2200892
Email:dntcinstitute@yahoo.com
TOP