A gift of books to Bhutan
By Tashi Tenzin, Kuensel Online, 9 February, 2010
Timphu, Bhutan -- The government of India yesterday donated more than 100 books to the national library in Thimphu.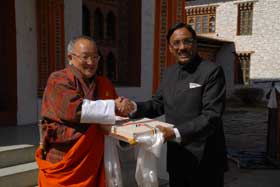 << Lyonpo Minjur Dorji and ambassador Pavan K Verma
The books, most of them on Buddhism and related to Buddhist philosophy, were handed over by the Indian ambassador to Bhutan, Pavan K Verma. At a simple handing over ceremony, the home minister, Lyonpo Minjur Dorji said that the books would not only help to realise the ministry's objectives to collect and enhance holdings, but also immensely benefit students, scholars, teachers, authors and journalists.
"It's one of the most invaluable gifts and is expected to curve down the current problems faced by both the institution and the readers because of limited books that are shelved in the library and archives," said the minister.
Ambassador Pavan K Verma said that the library is a place where a nation's culture is preserved by every country. "The number we contribute may be small, but we are honouring ourselves," said the ambassador, adding that they would continue this support even in the near future. The donation was made possible through the personal initiative and charitable contribution of the ambassador.
The books, some of which are in volumes, are worth about Nu 47,000.
The National Library functions as a central repository of the kingdom's important literary works, covering all the major Vajrayana Buddhist traditions.
Director of the national library and archives, in his opening speech said that the collection of about 160,000 titles in Choekey and Dzongkha is the library's largest of Vajrayana Buddhist text. However he said that collection of foreign language is limited with subjects on Buddhism, history and social sciences. "The ambassador's presentation of valuable books will not only enrich modern collections but also benefit our general readers and researchers for their studies," said the director.
TOP