Shutdown in Bodh Gaya against anti-encroachment drive
IANS, August 08, 2011
Bodh Gaya, Bihar (India) -- A total shutdown was observed in this Bihar town, known as the birthplace of Buddhism, Monday to protest the district administration's anti-encroachment drive.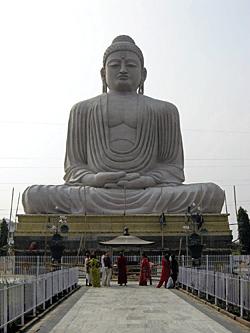 People, including local traders, hoteliers and some monks of Buddhist monasteries, observed the shutdown that severely affected normal life, a police official here said.
"The protesters have threatened to intensify their campaign against the anti-encroachment drive," the official added.
According to a monk, the shutdown was total.
"The temple town wore a deserted look as traders and hoteliers observed a shutdown and several monasteries also remained closed in protest against the anti-encroachment drive," Tenzing Lama of the Tibetan monastery at Bodh Gaya told IANS over telephone.
The district administration has launched an anti-encroachment drive in Bodh Gaya to ensure Unesco's plans to protect and conserve the world heritage site.
Several hotels, shops and portions of some monasteries have been identified to be demolished for illegal construction, district officials said.
"The state government had directed the district administration to demolish illegal construction near the 1,500-year-old Mahabodhi temple in Bodh Gaya to create a buffer zone as per Unesco's plans," a district official said.
The temple was declared a world heritage site in June 2002. The Unesco had recently asked government agencies to stop violations of guidelines to protect the world heritage site.
The temple, the 23rd historical structure in India to be given the special heritage status, stands at the site near where the Buddha attained enlightenment some 2,500 years ago.
Unesco officials were unhappy after an expert team complained that illegal concrete structures were mushrooming in and around the temple.
The organisation had been warning over the last several years that it would revoke the heritage status for the temple if its maintenance guidelines continued to be flouted.
The central and Bihar governments had assured the Unesco that its guidelines - including the enforcement of a strict ban on all construction in a one-km radius around the temple - would be strictly followed.
The state government had, however, admitted that new structures have come up within the restricted area.
TOP